Deputies: Repeat offender arrested in Tacoma, bail set at $5,000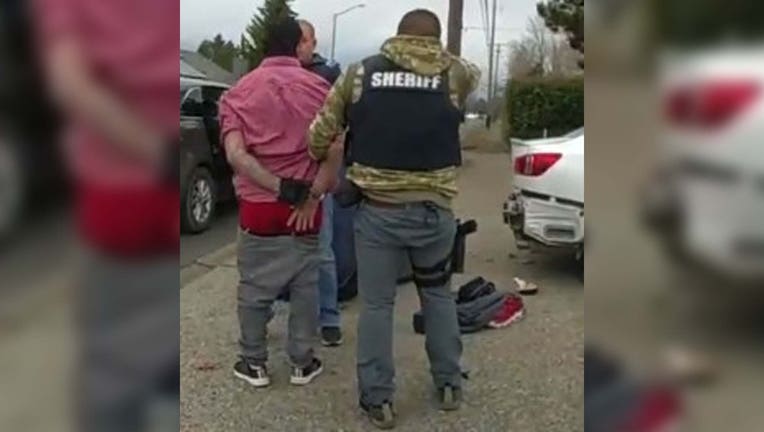 article
TACOMA, Wash. - Pierce County deputies arrested a 20-time convicted felon last Thursday on a warrant for escaping community custody.
Deputies located the 38-year-old suspect outside a home near E 59th St and Portland Ave E in Tacoma on Jan. 5. The suspect had an outstanding Department of Corrections (DOC) warrant, so deputies went to arrest him, but the man ran away.
Authorities say a deputy grabbed the man by his coat, but he slipped out.
Eventually, they subdued and arrested him. In the jacket, they found a loaded pistol, the suspect's social security card and his debit card, as well as $400 in cash and 4.7 grams of meth.
According to the sheriff's department, the suspect told them to get rid of the gun, saying if he was caught with the gun he would get a life sentence.
The man was booked into jail on the Department of Corrections warrant and for carrying a loaded gun. Prosecutors brought charges of first-degree unlawful possession of a firearm and obstructing an officer.
The sheriff's office says the suspect has 20 felony and nine gross misdemeanor convictions. He pleaded not guilty at his arraignment, and his bail was set at $5,000.
RELATED: 3 teens in custody after carjacking in Bellevue
Get breaking news alerts in the FREE FOX 13 Seattle app. Download for Apple iOS or Android. And sign up for BREAKING NEWS emails delivered straight to your inbox.
According to authorities, the suspect's girlfriend told him during his arrest she would post his bail once it was set. The DOC says they are ready to pick the suspect up from jail on his outstanding warrant if he posts bail.