Docs: Man shot and killed during mail theft confrontation was bailed out of jail fraudulently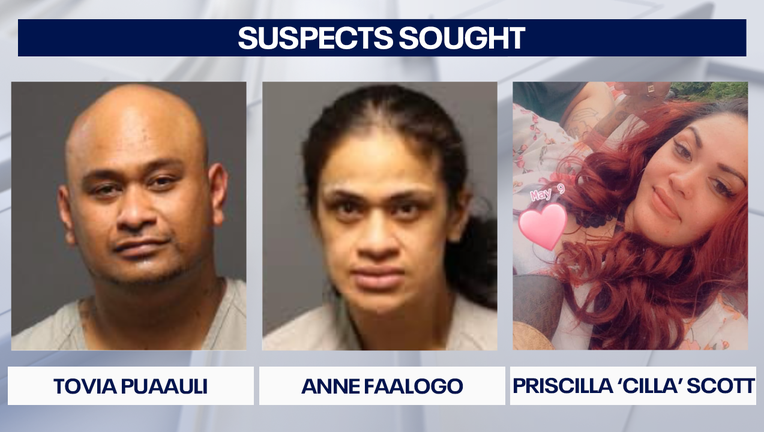 article
TACOMA, Wash. - The Kitsap County Sheriff's Office is looking for two women who were in a vehicle with an acquaintance when he was shot and killed for allegedly stealing mail. Deputies believe these women are with a wanted felon and all three are being sought by authorities. 
Detectives say Anne Faalogo and Priscilla 'Cilla' Scott were in the vehicle with 31-year-old Richard Taii when he was shot and killed in Port Orchard back in January. 
The suspected shooter, 39-year-old Chad Wilson, said he thought Taii was stealing his mail, so he shot him. Taii was killed at the scene and Wilson has been charged with first-degree murder. 
There were two women in the car with Taii at the time of the shooting, later identified as Faalogo and Scott. Police say the pair had just bailed Taii out of jail and were stealing mail with him.
According to court documents, Scott used an American Express credit card to pay a $2,600 portion of Taii's bail. A Plus Bail Bonds posted the rest of the $25,000 bail and Taii was released. 
When he was released, the $2,600 transaction was declined, according to court documents. The card was later discovered to be stolen, likely from the victim's mailbox, according to court documents. It was also found in Taii's pants pocket when he was killed.
Both Scott and Faalogo are wanted on suspicion of identity theft and possession of stolen mail as well as for arrest warrants in other jurisdictions. Scott has similar warrants in Oregon.
Court documents say officers found at least 24 pieces of stolen mail in the vehicle that all three were riding in when Taii was shot. Officers also found two cell phones, a notebook with people's personal information inside, and "additional documents pertaining to identity theft." These items were all found in a black backpack, believed to have belonged to Faalogo.
They are likely in the Tacoma area.
The Kitsap County Sheriff's Office says they have credible information that they are with a wanted felon, 44-year-old Tovia Puaauli. Puaaili was convicted of first-degree unlawful possession of a firearm, second-degree rendering criminal assistance and providing a false statement to a public servant, however, he was free on bail but did not show up to his sentencing.
Puaaili is 6'4" and weighs 315 pounds. He should be considered armed and dangerous. 
Faalogo has an extensive criminal history and has been designated by the Bureau of Alcohol, Tobacco, Firearms and Explosives (ATF) as an "armed career criminal." 
Anyone with information on Scott and Faalogo are asked to call 911.
If you want to leave an anonymous tip on the whereabouts of one or all of the suspects, you can contact Crime Stoppers of Puget Sound for a cash reward of up to $1,000 for information that leads to an arrest. You can leave a ti[p by calling 1-800-222-TIPS (8477) or submit a tip through the P3 Tips app.