Deputies believe Powell intentionally created blast in double-murder, suicide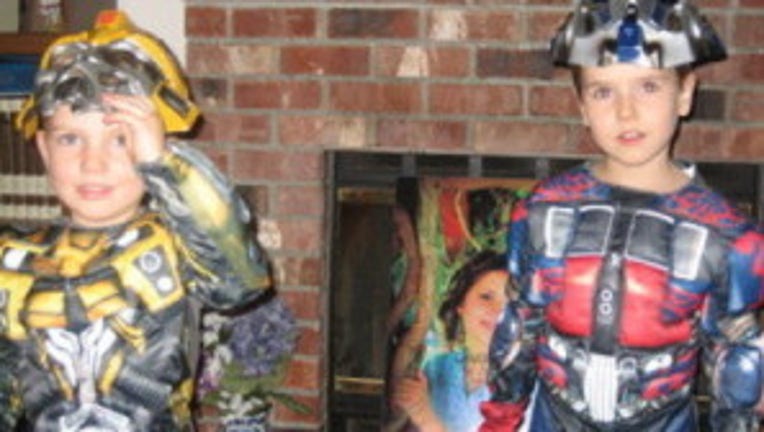 Josh Powell's two sons, Charles, 7, and Braden, 5, were severely injured by "chops to the neck" but died from carbon monoxide poisoning preceding an explosion and fire, the Pierce County medical examiner said.

The blows were delivered with a hatchet or small ax, Pierce County Sheriff's deputy Ed Troyer said.

The medical examiner listed the cause of death for Josh Powell as suicide.

The home where Powell had been staying exploded about 12:30 p.m. Sunday, moments after Powell's children had arrived with a social worker for a supervised visit. The social worker was not injured.

Troyer said they uncovered two 5-gallon cans of gasoline in the home on Monday.

The discovery of the gas cans further cemented deputies' theory that Powell acted with intent to kill his children and commit suicide. As an accelerant, Troyer said the gas was more than enough to "take care of the house."

Troyer added that they did not find any guns in the home, even though witnesses said they heard gunshots moments before the explosion.

"It sounded like a sonic boom and felt like an earthquake," said neighbor Dan Seelye of the explosion. Seelye said flames from the explosion were 30 or 40 feet high and that ash fell on neighbors' roofs.

Powell's attorney, Jeffrey Bassett, said Powell sent him an email moments before the explosion. It read simply, "I'm sorry, goodbye."

Troyer also said that Powell had sent a handful of emails to family members and his pastor immediately before the explosion.

The emails detailed some items that Powell wanted addressed, such as shutting off the utilities and other items; he did not release the emails to the media.

Troyer told CNN on Sunday the sheriff's department had copies of a short e-mail that had been sent to Powell's family and friends that said "he couldn't live with what was going on."

It appears all the emails were sent just prior to the explosion.

"Nobody would have had enough notice" to do anything, Troyer said. He added that they don't know how long Powell had planned the "double homicide intentionally inflicted on the boys."

On Tuesday, ABC News released a voicemail message that Powell had left for his family members.

Powell has long been a person of interest in the case of his wife Susan Cox Powell, who went missing in December 2009. West Valley City, Utah, Police Chief Buzz Nielsen told KSTU in Salt Lake City that Josh was on the verge of being charged in Susan's disappearance. On Tuesday, police announced they are now treating Susan's case as a murder investigation.

An attorney for Susan's family said the couples' two sons had recently begun to remember the night their mother disappeared. Stephen Downing said the children, Charles, 7, and Braden, 5, had started talking to their grandparents about things they had remembered from the night their mother vanished.

Downing said Charles told family members about the night his father said they went camping. He reportedly said Susan was in the trunk before his parents got out of the car and afterward, his mother "got lost."

West Valley City police said the investigation into Susan's disappearance is ongoing and a team of investigators is coming to Washington to meet with area authorities.

On Sunday, the social worker who brought Powell's sons for a custodial visit said Josh grabbed the kids and went into the house, locking her out. She tried pounding on the door to get in, but within a few seconds the house exploded. The house is located at 8119 189th St. Court East.

The social worker told authorities that she smelled gas.

Authorities have recovered the bodies of two young children and an adult sunday evening. Deputies believe that Josh had been living at the home since August 2011.

Josh was in court Feb. 1 in an attempt to regain custody of his sons who have been in the care of Susan's parents, Chuck and Judy Cox. In an affadavit filed with the court, Josh wrote about his struggles surrounding the custody case and his missing wife. He also charged that the Coxes had inflicted his sons with "sustained severe injuries" and wrote that "for the sake of my sons, we can all do better."

He also wrote to the court that he was not a "bad person" and that the "story is one of overcoming and rising above what many people think are insurmountable challenges."

The judge denied Josh custody and ordered that he undergo a psycho-sexual evaluation and polygraph test due to the large volume of porn that had been found in the house where he and his sons were staying. The pornography was the property of Josh's father, Steven, who was charged Sept. 23, with 14 counts of voyeurism and one count of child pornography.

Steven Powell was arrested and subsequently jailed. When Steven was informed of the incident involving his son and grandsons, he reportedly became uncooperative and displayed little emotion.

Deputies do not know if Josh visited his father recently in prison and Steven has remained uncooperative with investigators.

"This is a terrible act of murder involving two young children," said Pierce County deputy Paul Pastor.

Pastor also said that it appeared to be an "act of evil."

Troyer added that the home looked "staged" with photos of Susan on the walls and other items to make it appear as if Josh were a responsible and caring parent.

The house where Josh had been staying was about four blocks from his father's home.

The tragedy of the situation and its brutal finality had an impact on responding deputies and rescue crews.

Troyer told CNN that many law enforcement agents in Washington worked with their counterparts in Utah on Susan's case, in addition to spending time getting to know her sons.

"Our guys have spent a lot of time and effort and blood, sweat and tears on this case," Troyer said. "We have detectives who are close with the kids and know them. The whole thing is just sad."