Defying judge's order, Tumwater teachers stay on strike; district threatens to seek 'relief' in court


TUMWATER, Wash. -- Teachers on strike in Tumwater voted Wednesday afternoon to defy a judge's order to return to work.

Members of the Tumwater Education Association said the strike, now in its 12th day, will continue, despite Thurston County Superior Court Chris Lanese's ruling that the strike is causing "sufficient harm" to the district and the students it serves, particularly students with special needs.

"While there is nothing we'd like more than to end this strike and be back where we are most comfortable, after a lot of individual reflection and group discussion, we're not giving up on our students, our community and ourselves," Tumwater EA President Tim Voie said in a news release. "We will go back to school when the district is ready to give us a fair and reasonable contract that will attract and retain great teachers and keep our students safe."

Union members met for two-and-a-half hours after the judge sided with the Tumwater School District Wednesday morning. It was an "intense" debate, the association said, that ended with members voting "emphatically" to defy the order.

After that news, the school district issued a response, saying it had notified the union that Thursday would be "the first scheduled teacher work (day) and (Friday) September 14th is scheduled to be the first student day. If the teachers do not report to work, the district will be forced to take the necessary steps the judge outlined in court to seek relief," indicating it would seek fines against the union.

It added that district negotiators "remain available to bargain at any time."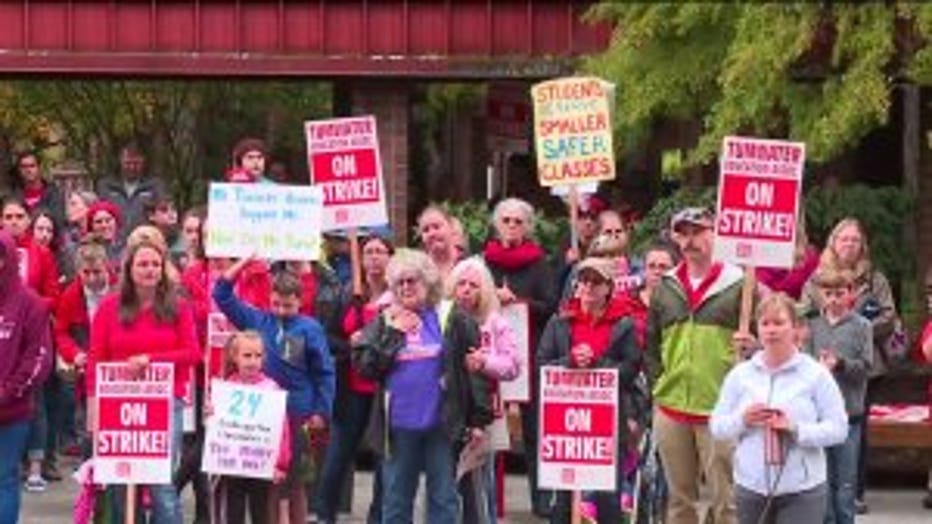 Teachers picket Wednesday outside a courthouse in Olympia, where a judge ordered the strike to end.


It's unclear whether teachers in Tumwater will be sanctioned for not returning to school. Tacoma teachers went through the same thing in 2011, when a judge ordered them to end their strike. Teachers ignored the judge's ruling and were not fined, because state law does not outline penalties for teacher strikes, even though it's illegal for public school employees to go on strike.

Teachers said they don't want to defy the injunction, but they believe they have no other choice " since the district is bent on settling this in court rather than at the bargaining table where they are refusing to budge."

Tumwater Schools Superintendent John Bash said the district is doing everything it can to continue good-faith negotiations. The school district is back at the bargaining table today. Both sides said they hope to be back at school as soon as possible.

The Tumwater School District serves roughly 6,300 students, and the teachers' union represents a little more than 400 educators.