Death toll rises to 13, including 4 children, in Oklahoma storms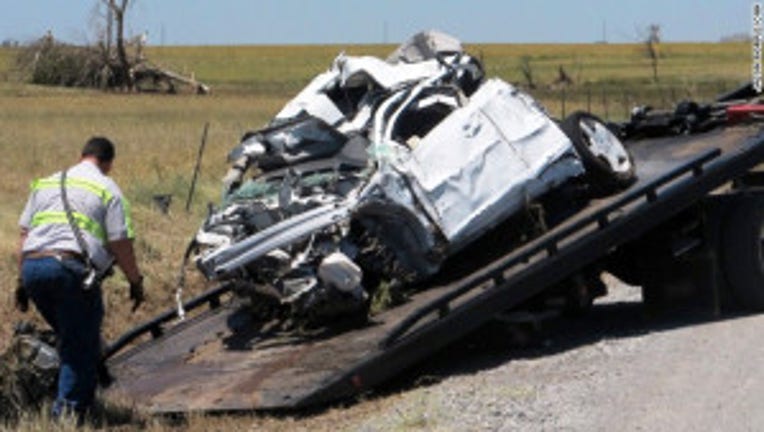 By Los Angeles Times

The death toll in the storms that battered the Oklahoma City area late last week has risen to 13, including four children, authorities said Sunday.

The chief medical examiner's office said the storm claimed the lives of nine adults and four children. Three of the adults have been identified as professional storm chasers.

Tim Samaras, his son Paul Samaras and Carl Young were killed Friday while following a tornado in El Reno, Okla., relatives told CNN on Sunday. Their work tracking tornadoes was featured on the former Discovery Channel show "Storm Chasers."

A total of 115 people were treated in Oklahoma City area hospitals for injuries, the Oklahoma State Department of Health said Sunday. Thirteen tornadoes struck the region over three days last week, including five in the metropolitan area on Friday.

State emergency officials in Oklahoma will begin working Monday with the Federal Emergency Management Agency and local emergency managers to assess the damage for potential federal aid, the Oklahoma Department of Emergency Management said in a statement.

The EF-3 tornado that hit the Oklahoma City suburb of El Reno on Friday devastated a Canadian Valley Technology Center campus, one of the center's four campuses for technical education. The small number of faculty and students on campus at the time sheltered underground as the storm hit, district Supt. Greg Winters said in an online statement.

On Saturday, 195 people were rescued from a mobile home park deluged by floodwaters, officials said.

The Oklahoma Corporation Commission said Sunday that more than 27,000 homes and businesses in the Oklahoma City metropolitan area were still without power.