Death toll likely to rise in Texas fertilizer plant blast 'like nuclear bomb'


WEST, Texas (CNN) -- A massive explosion at a fertilizer plant in the small Texas town of West Wednesday night left at least two people dead, injured more than 100, leveled several homes and prompted a widescale evacuation in the community of 2,600 people.

"It was a like a nuclear bomb went off," Mayor Tommy Muska said. "Big old mushroom cloud. There are a lot of people that got hurt. There are a lot of people that will not be here tomorrow."

Fire officials fear that the number of casualties could rise as high as 60 to 70 dead, said Dr. George Smith, the emergency management system director of the city.

"That's a really rough number, I'm getting that figure from firefighters, we don't know yet," he said.

"We have two EMS personnel that are dead for sure, and there may be three firefighters that are dead."

Muska told WacoTrib.com that six or seven  firefighters were in the plant at the time of the explosion and unaccounted for.

The blast took place at the West Fertilizer Plant, about 18 miles north of Waco, about 8:50 p.m. ET.

It sent a massive fireball into the sky. Flames leaped over the roof of a structure and a plume of smoke rose high into the air.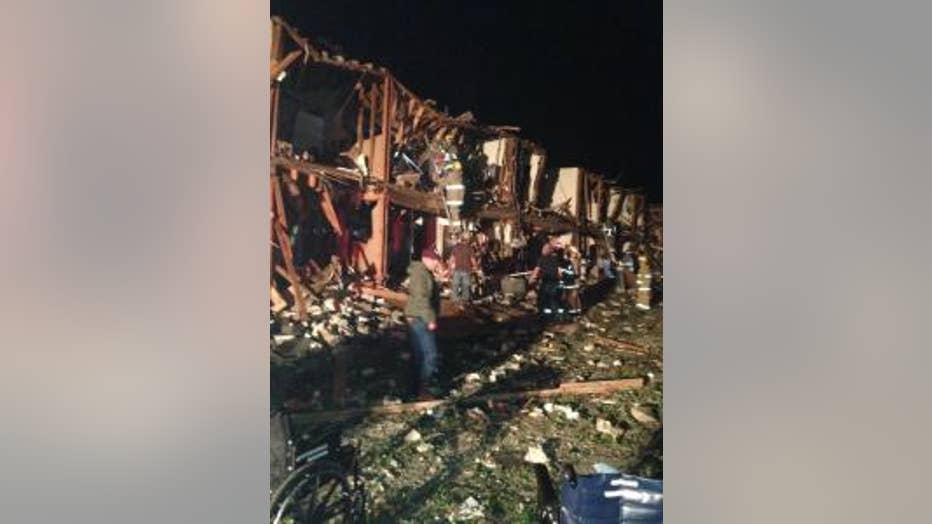 Fertilizer plant explosion ripped walls off of nearby buildings in West, Texas. Here, an apparent apartment complex was ripped open.


"There are lots of houses that are leveled within a two-block radius," Smith said. "A lot of other homes are damaged as well outside that radius."

McLennan County Sheriff Parnell McNamara said the area looked like a war zone after the blast, which had a magnitude of 2.1, the U.S. Geological Survey said.

The bomb that destroyed the Alfred P. Murrah (federal) Building in Oklahoma City in 1995 produced a blast with 3.0-magnitude.

"The magnitude measures only the ground motion, not the air wave, so is substantially less than the true size of the event," the USGS said on its website.

Texas Department of Public Safety trooper D.L. Wilson briefed media, saying there were over 100 injuries and there are confirmed fatalities. Wilson said he could not give a firm number of fatalities, however.

"It could go up by the minute," Wilson said.

Wilson told reporters that 50 to 75 houses suffered damage, 133 people were evacuated from a neighboring nursing home, and said an apartment complex near the fertilizer plant with over 50 units was "like a skeleton."

Half of the town of West has been evacuated, Wilson said, adding that if the wind shifts and blows from the north, the other half may need to be evacuated.

Emergency personnel will do a house-to-house search overnight, looking for others who may be injured, he said.

And the danger may not be over.

Residents are being evacuated because officials are worried that another tank at the facility might explode.

"What we are hearing is that there is one fertilizer tank that is still intact at the plant, and there are evacuations in place to make sure everyone gets away from the area safely in case of another explosion," said Ben Stratmann, a spokesman for Texas state Sen. Brian Birdwell.

Shortly after the explosion, more than 60 patients streamed into Hillcrest Hospital in Waco, suffering from "blast injuries, orthopedic injuries (and) a lot of lacerations," said hospital CEO Glenn Robinson.

While some of the injuries are minor, others are "quite serious," he said.

At least six helicopters are going to fly out those who are injured, Robinson said. Others are being transported by ambulance, and some are getting to the hospital by car, he added.

Two other hospitals in the region were also assisting.

The West Fertilizer Plant is just north of Waco. A school and a nursing home are among the buildings near the plant, CNN affiliate KWTX reported.

Tommy Alford, who works in a convenience store about three miles from the plant, told CNN that several volunteer firefighters were at the store when they spotted smoke. Alford said the firefighters headed toward the scene and then between five and 10 minutes later, he heard a massive explosion.

"It was massive; it was intense," Alford said.



Chrystal Anthony, a nearby resident, said she saw the flames engulf the nursing home and an apartment complex.

"It was an apartment complex that was devastated, the nursing home. The fire was close to a residential area," Anthony said.

As of 10 p.m., two hours after the explosion, fires were still burning in the area, and strong south winds blowing at 30 mph were fanning those flames.

A photo taken after the explosion -- which happened around 7:50 p.m. (5:50 p.m. PT) -- showed a huge plume of smoke rising high into the air.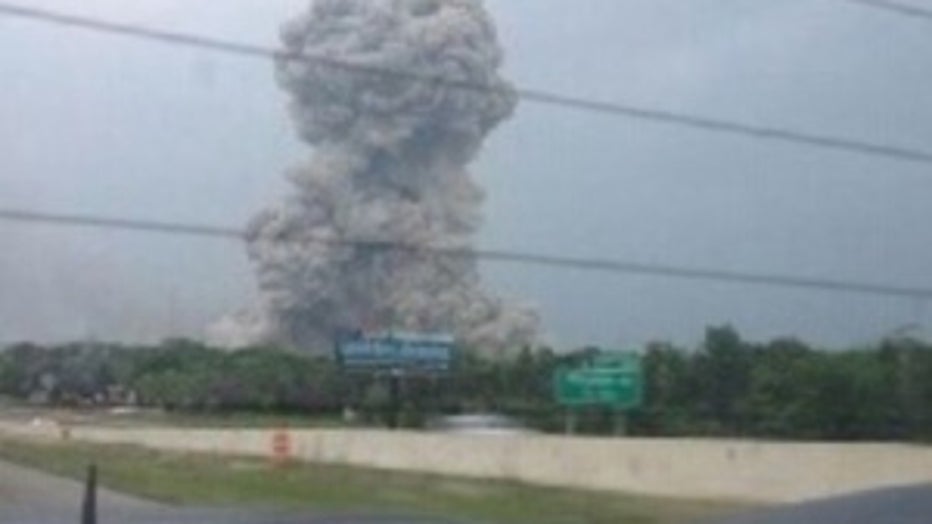 Explosion rips through fertilizer plant in city of West, Texas, on Wednesday (Photo: FOX 44 / viewer submitted)


KWTX reported that West firefighters were dispatched to the plant earlier in the evening after an earlier fire rekindled.

Scanner traffic indicated that some residents of both the nursing home and apartment building were severely injured.