Death toll in mudslide rises to 14; now 176 names of possibly missing people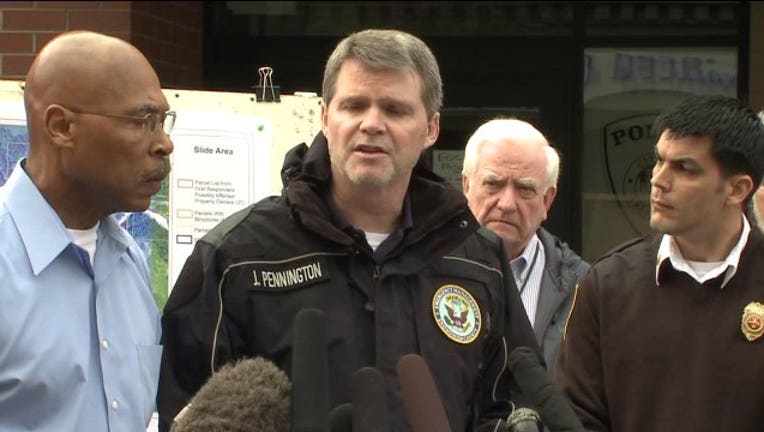 article


SNOHOMISH COUNTY -- Search and rescue crews at the devastating mudslide Monday found an additional six bodies, bringing the total number of dead to 14, the Snohomish County Sheriff's Office said.

The number unaccounted for has not changed, as the identity of the victims still needs to be verified, the office said.



John Pennington, the director of the Snohomish County Department of Emergency Management, stressed that the number of people possibly missing, 108, was a compilation of missing persons reports composed through a variety of different sources. He said 108 missing was by no means a complete, finalized or totally accurate number.

"We have 108 individual names, or likeness," Pennington said. "It's a soft 108."

Pennington said his county officials consolidated multiple lists to come to the soft number. He anticipates the number will come down, not increase.

"The number is no question going to decline dramatically," he said.

Pennington urged survivors to call the Snohomish County emergency management line at 425-388-5088 to confirm they are alive and safe. They also asked family members who believed they lost loved ones to call the line, as well as share photos with the county. It is important that both survivors and family members confirmed their status with the county to help officials compile the most accurate number of missing possible.

"Even if you were not in the area but there might be a possibility that friends and family may believe you were in the area for whatever reason, please call this number to confirm you were OK," officials asked in a release.



Pennington said 49 property parcels in the affected area had some form of dwelling on them. There was one cabin, 13 manufactured homes or trailers and 35 built homes. About 25 of those homes were believed to be occupied full-time, with 10 or more occupied part time as vacation homes.

Search and rescuers are still holding out hope people would remain alive in the rubble and mud that fell on to homes Saturday, and the operation was still being called a rescue mission. Still, they said hope seemed to dim as the hours passed by, given the severity of the slide.

"This is very grim," said Snohomish County Fire District 21 Chief Travis Hots.

Over 100 responders scoured the scene Monday, and some were pulled back in the area directly underneath the slide for fear of additional movement. Responders were using search dogs, hovercrafts, sonar, helicopters and all resources available to them to help find possible survivors.

At least seven homes in the area were still evacuated because of flooding risk as the Stillaguamish River east of the mudslide continued to slowly rise. Officials warned of flash flood potential as natural dams and debris broke through the river, but the risk was much lower than previous days.

Harborview Medical Center said that two patients -- a 6-month-old boy and an 81-year-old man -- remained in critical condition at 8:30 a.m. Monday. A 37-year-old male and a 58-year-old male remained in serious condition, and a 25-year-old female was in satisfactory condition. At least three individuals were in satisfactory condition at a Snohomish County hospital.

The federal government would soon step forward with funds to help in recovery and restoration efforts, Sen. Maria Cantwell, D-Wash., said.

The slide is believed to be one of the worst natural disasters in the state's history, especially since it came out of "nowhere," officials said.

The area is known to be slide-prone, and saw two large slides in 2006 and 2010.

This story will be updated throughout the day.