Dangerous conditions cause some to walk off job at Oso cleanup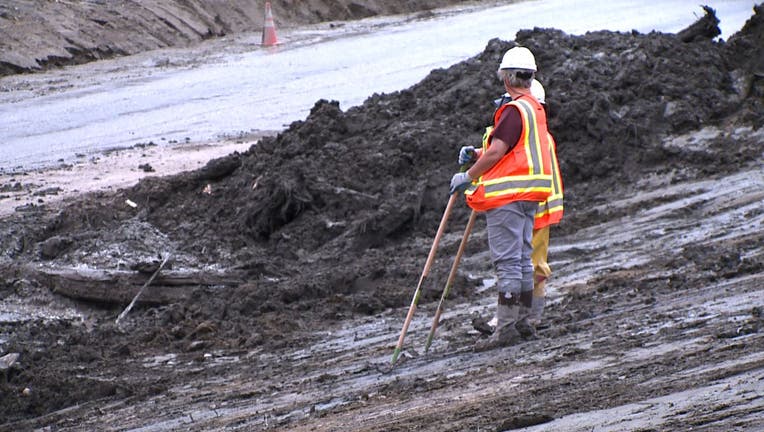 OSO, Wash. -- Contractors are working around the clock to clear the landslide from State Route 530, hoping to get the highway back open as soon as possible.

But on Sunday and Monday, safety concerns brought work to a standstill.

The slippery conditions in the slide zone were enough for some workers to just walk away.

WSDOT so far can't say how many people walked off the job.

"One thing we can't do is to force people to work in a situation where they feel unsafe," said Washington State Department of Transportation spokesman Travis Phelps.



Work continued in the massive slide zone on Monday afternoon. But over the weekend, work came to a standstill after spotters said the area was too dangerous to work.

"Even though our safety folks says this work zone is safe, you may not feel that way as a spotter," said Phelps. "Some of those folks choose not to work with us."

Spotters work alongside the giant backhoes, looking for personal items and even human remains in the debris.

WSDOT said a number of spotters felt the slick and muddy working conditions were too much – worried for their safety, they simply walked off the job.

"Anytime that happens, we conduct a full field review with our safety staff and the contractor's safety staff," added Phelps.

So far, there have been no accidents or injuries during the cleanup of SR 530. In all, hundreds of trucks each day have pulled 45,000 cubic yards of mud from the roadway.

But all progress stops when spotters abandon their post.

"We can't work without spotters," said Phelps. "So anytime our spotters leave we have to stop work and look to our own staff to bring in substitute spotters."

Some of the spotters that left have returned to the job site and construction was back up and running Monday afternoon.

WSDOT says there's at least 600 feet of SR 530 that simply washed away during the slide.

The state is hoping to remove all the mud from the roadway by the end of the month.