Danger of mudslides, flooding rises in area as more rain on way


SEATTLE -- Steady rain that has seemed unrelenting over the past couple of weeks is causing problems all over Western Washington.

"Since the soils are already saturated and unstable, that could cause some landslides across the area," National Weather Service meteorologist Johnny Burg said.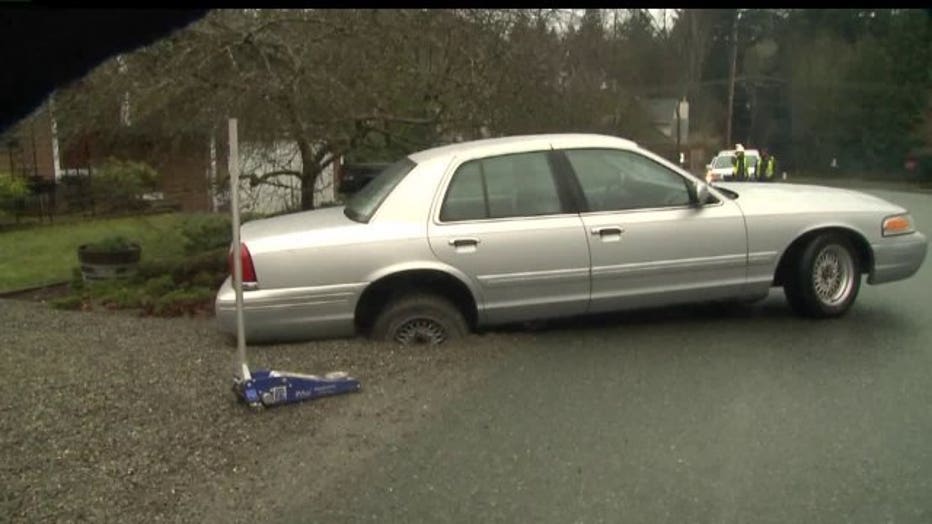 A small sinkhole opened up and swallowed a part of this car's tire as the owner was pulling out of his driveway in Kirkland. (Photo: KCPQ-TV)


Landslides like one on 396th Drive near Snoqualmie. The hillside began to slide Monday, bringing down lots of mud -- and trees, too.

The road is now clear but the stability of the hillside is uncertain so it will remain closed until Friday or until the danger to motorists has passed.

In Thurston County, more slides, including one on Prather Road Southwest. It started Feb. 18, but the cleanup had to wait until Tuesday.

The County Council passed an emergency declaration to fast-track funding for the cleanup.

The emerging problem now is flooding.

"On any stretch of rain, this is going to flood ... six or seven times a year maybe," said homeowner Bill Berleman, who has lived along NE 165th Street near Bear Creek in Woodinville for 30 years.

He's seen the creek flood the street many times before and he's watched as people take their lives into their own hands by driving around "road closed" signs.

"They spent a lot of time putting up those barriers and a lot of time is spent pushing them aside and ignoring them.  It is best not to ignore them because the water is so high it will stop your car," Berleman said.

And there's a small sinkhole that opened up on NE 132nd Street in Kirkland.

The driver says he was pulling out of his driveway and the ground gave way.

Damage caused by storm water runoff may be to blame, but it's still too early to be sure.

"There is a storm line that's relatively close, so we'll be looking to see if the storm line has a break or a crack in the storm line that has caused some undermining there, or if there's some other problem," North Shore Utility District spokesman Carl Lunak said.

No injuries were reported and the hope is that won't change as the rain continues to fall, streets continue to flood and the ground continues to move.

"Things are still a little uncertain at this point so we want people to just be aware that these things can happen and to pay attention to the forecast," Burg said.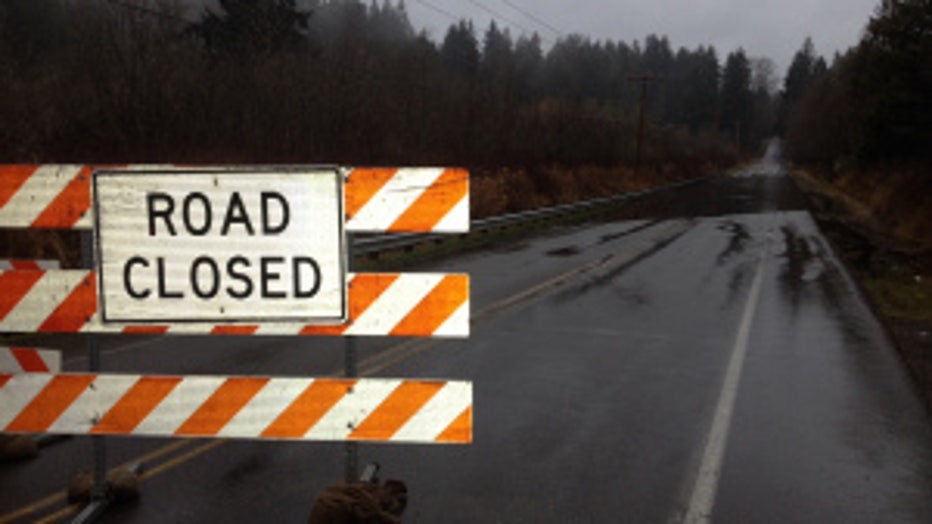 The National Weather Service says we all just need to exercise a little more caution for the next few days.

Even after the rain, slides and flooding could continue, so be on the lookout for problems and be careful.

Never drive around road closed signs.

By the time you figure out how deep the water is across the roadway, it could be too late.