Dad of 8-year-old Boston bombing victim: 'Please pray for my family'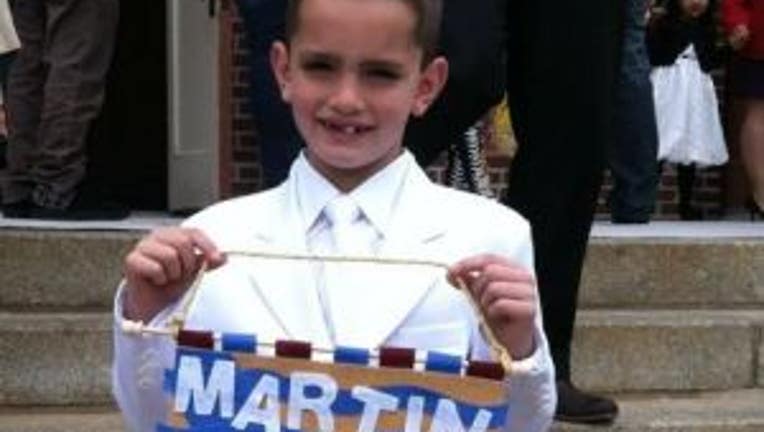 article


BOSTON -- Bill Richard grieves, and the community came to grieve with him.


His son, Martin, 8, is one of the three killed in the twin blasts that rocked the Boston Marathon on Monday. Richard's wife and daughter were also wounded, and he's put out a statement asking for everyone to pray.

"My dear son Martin has died from injuries sustained in the attack on Boston," said the statement, issued to the media on Tuesday by Liberty Square Group, which represents candidate for U.S. SenateStephen Lynch. (He's a friend of the Richard family because his wife worked with Denise at Marion Manor, a rehab center, a spokesman said.)

PHOTOS: Bombings splashed across nation's front pages

"My wife and daughter are both recovering from serious injuries," the statement continued. "We thank our family and friends, those we know and those we have never met, for their thoughts and prayers. I ask that you continue to pray for my family as we remember Martin. We also ask for your patience and for privacy as we work to simultaneously grieve and recover. Thank you."

Neighbors and friends in the quiet Boston neighborhood where the boy lived tried to come to terms with his death Tuesday, bringing flowers and mementos to the family's home, which police had surrounded with yellow tape by mid-morning.

Richard's neighbors in Dorchester told the Los Angeles Times that the boy loved to ride his bike and play with his older brother Henry and younger sister Jane.

"Losing one child is bad enough, having the other ones injured and your wife injured...," said Jane Sherman, 64, who lives next door, trailing off. "They are a wonderful family and this is a horrific tragedy. I think this is something they won't recover from."

For the complete Los Angeles Times story, go here.