Cyclist sought in alleged hit-and-run with other bike rider on I-90 bridge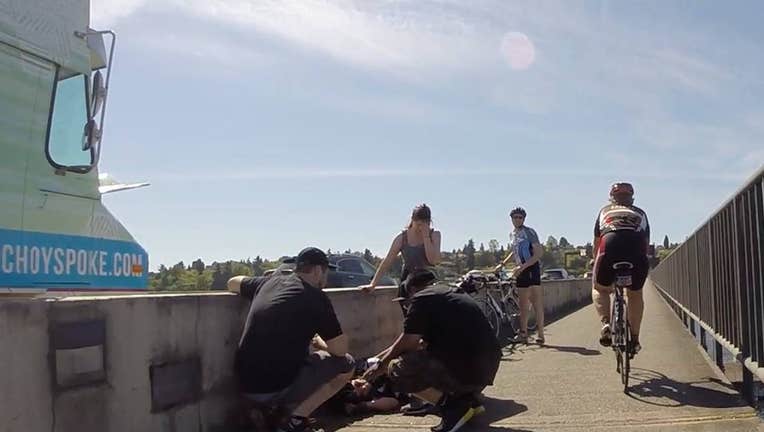 SEATTLE -- The collision happened in the afternoon on Wednesday, April 30.

Brenda Dawson was out for her first bike ride of the season, commuting home from work.

She was on the I-90 bridge deck, navigating two-way bicycle traffic and pedestrians when she says she saw an oncoming cyclist veer into her lane.

"I gave it one or two seconds for her to look up and change her course and then I yelled, watch out, and then the collision. I must have closed my eyes because I heard the sound of crunching bikes," victim Brenda Dawson said.

Dawson was thrown from her bike and injured.

"I hit my right shoulder and then I felt my right arm scraping against the ground, just grinding like, ouch, and then my head just slam and I knew that wasn't good," Dawson said.

She has a broken elbow, an injured shoulder and badly bruised hip.

Dawson remembers the other woman talking to her just before the woman got on her bike and rode away.

"She asked if I needed anything and I didn't think she was asking to be dismissed from the scene. I thought she was asking if she could provide any assistance, you know, do you need anything and I said no. Next thing I know the guys were saying she's leaving, she's leaving," Dawson said.



The other bicyclist is described as a white woman, 25 to 35 years old with sandy blonde, shoulder-length hair.

She was not wearing a helmet or traditional cycling clothing and was riding a Fuji hybrid bike with straight handlebars.

Troopers say that when she rode away, she broke the law.

"For vehicular assault or even a felony hit-and-run, as just involving the operator of a vehicle, and if you read the other RCWs (Revised Code of Washington state laws), a vehicle is defined as any vehicle traveling on the roadway, which would include a bicycle," Washington State Patrol Sgt. Stacy Moate said.

That means she should have stayed and traded contact and insurance information, just as one would do in a car crash.

If found, she could be charged with vehicular assault or felony hit-and-run.

Dawson is going in for elbow surgery Tuesday.

She says she will likely be off her bike six to eight weeks but she also expects to be out several thousands of dollars for medical bills.

She says she doesn't want the woman to be charged, but if she has insurance she would like help with her medical expenses.

If anyone saw the accident or knows the suspect, you're asked to call the Washington State Patrol.