Crowd jeers as city council tinkers with minimum wage proposal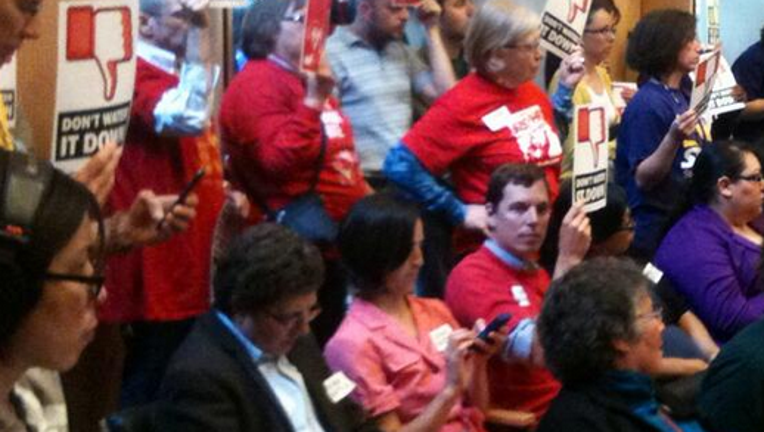 SEATTLE -- Residents packed city hall Thursday morning as the council voted unanimously to pass forward a proposal to raise the city's minimum wage to $15 an hour, only after a few small changes.

The proposal still has to go before the full City Council for a final vote, slated for next Monday, even though all city council members were present as part of the recently formed the Minimum Wage Commission.

The council voted to delay the implementation of the new wage from Jan. 1. to April 1, 2015, as part of small changes proposed to the plan. The vote prompted boos from the crowd, who packed into the hearing.

The council also passed an amendment allowing sub-minimum wage for teens.

Council chambers was packed with $15 Now supporters, who largely advocate a no-exemption increase in the minimum wage.

Socialist City Council Member Kshama Sawant proposed an amendment that would quicken the pace of implementation to now for big businesses and to three years for small business. But the amendment was voted down, again to boos.

"McDonald's thanks you," one man shouted from the crowd.

If approved, the new minimum wage would be the highest of any major city in the nation. More than 100,000 people working in Seattle currently make less than $15 an hour.

The mayor's agreement calls for a phased-in approach to increasing minimum wage.

Small businesses, defined as businesses with less than 500 employees, have 7 years to reach the new minimum wage. For the first five years, those businesses will be allowed to factor tips, healthcare and other benefits into that wage, but not after that.

Fewer than one percent of city businesses employee more than 500 people.

Businesses with more than 500 employees such as McDonalds and other chains will only have three years to implement the new wage, Murray said. There are more than 30,000 employees in the city that worker for a company with 500 or more people.

There are no exemptions for any business at the end of seven years to pay less than $15 an hour. Once $15 an hour is reached, future increases will be tied to the consumer price index.

Tune in to Q13 FOX at 4 and 5 p.m. for more information.