Cross-dresser suspected of Seattle bank robbery shot, killed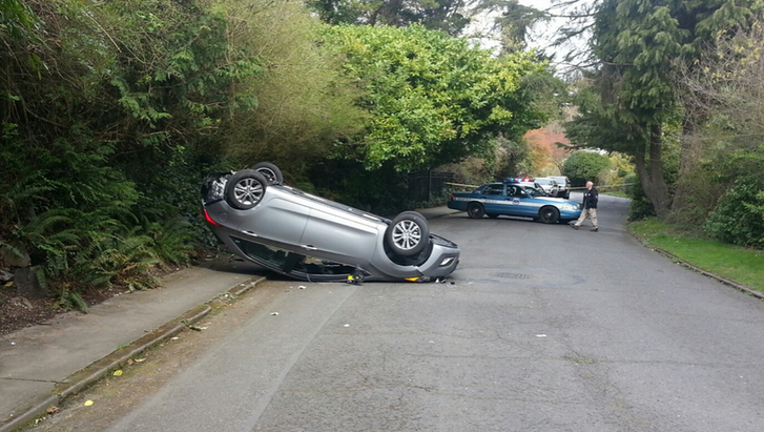 article


Seattle -- Police officers shot and killed a cross-dressing man suspected of a bank robbery in Seattle's Madison Park neighborhood Thursday morning.

Witnesses say the man crashed his alleged getaway car and then ran off  through the neighborhood.

Police say their suspect had a knife and that an officer was forced to shoot and kill the man.

"I heard three crashes, almost sounded like somebody hit three garbage cans," said witness Cody Morrison.

He was working at a construction project on 39th Avenue East when the suspect flipped his car.

"I go over to the car to see if anybody else was in it," said Morrison. "I went up to it and said was anybody injured in the vehicle. I looked down and I saw a wig, I thought that was kind of weird."

Cops say the man robbed a bank at gunpoint at about 9 a.m. Thursday. They say he was wearing makeup, a wig, and a skirt during the robbery.

The suspect then took off at high speeds in a car, and then crashed a short distance away, according to detectives.

Cody and his co-workers watched the suspect run from the crash.

"This kid, probably about my height, dragging a suitcase, running down this back road," said Morrison. "Started taking off his shirt, and like taking off his pants."



Neighbors say they saw the suspect acting strange just before he crashed.

"He had his window down and he was wiping makeup off of his face," said witness Mary Seifred.

For nearly two hours, police scoured the neighborhood with search dogs looking for the suspect. Investigators say the man darted across the road and that's when police gave chase. Cops met the man in someone's yard and fired at least one round, killing him.

Detectives from the Seattle Police Force Investigation Team and the Office of Professional Accountability are looking into the incident.

The detective who pulled the trigger has been placed on administrative leave, which is standard procedure in officer-involved shootings.