Crime Stoppers tips help Spokane detectives identify accused serial pharmacy robber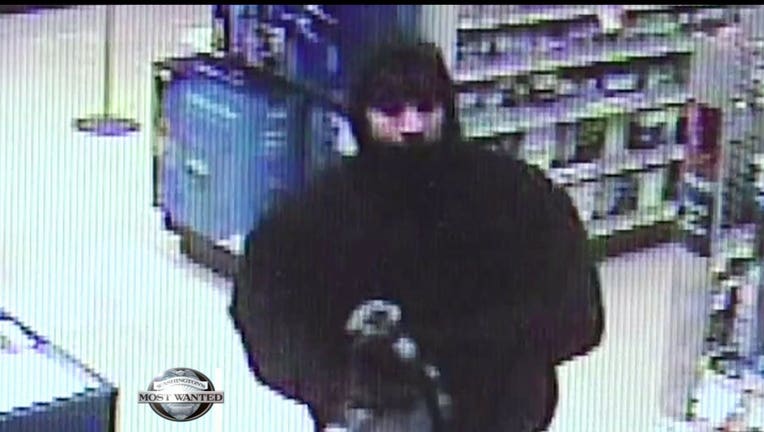 FUGITIVE CAPTURED January 4, 2015 -- Coeur d'Alene police say the investigation into the robbery of  a Walgreens Pharmacy on Sunday resulted in the arrest of 26 year old Brian Lindsey of Spokane. Lindsey is a suspect in numerous pharmacy robberies in Washington, Idaho, Montana, and North Dakota. At the time of his arrest on Sunday night, Lindsey was under a joint investigation for these crimes by the Spokane County Sheriff's Office Major Crimes Division and the North Idaho Violent Crimes Task Force. NIVCTF says it expects to charge Lindsey with additional counts of robbery including the Spokane Valley Shopko pharmacy robbery that occurred on December 4th, 2014 that we featured on Washington's Most Wanted.
The Spokane County Sheriff's Office says Crime Stoppers tips assisted detectives in identifying Lindsey as the suspect in the Shopko robbery and two other Spokane-area heists -- the Walgreens Pharmacy located at 15510 E. Sprague Ave in Spokane Valley and the Albertsons Pharmacy located at 13606 E. 32nd Avenue in Spokane County on November 15th, 2014. Lindsey remains in custody at the Kootenai County Jail. His bond was set at $110,000. FUGITIVE WANTED IN SPOKANE COUNTY December 12, 2014 -- Crime Stoppers of the Inland Northwest is offering up to $2,500 for information leading to the arrest of this pill perp who hit a Shopko pharmacy in Spokane Valley last Sunday. Detectives say the guy was armed with a crowbar when he briskly headed behind the pharmacy counter, demanded drugs, and took off once he'd scored his fix. Detectives think he's white and around 6'0" six feet tall.
If you think you know who he is, call an anonymous tip into: CRIME STOPPERS: 1-800-222-TIPS You must call the Crime Stoppers hotline with your tip to be eligible to receive a cash reward for information leading to a fugitive's arrest. CLICK HERE for information on how to TEXT A TIP to Crime Stoppers