Snohomish County plane crash: 4 killed in crash were pilots, engineers testing aircraft
SNOHOMISH COUNTY, Wash. - Four people were killed in a plane crash east of Harvey Field Airport in Snohomish County on Friday morning.
FOX 13 has learned that the crew on-board were working for Raisbeck Engineering, a Tukwila-based aircraft supply company.
Raisbeck has been working on a modification that could be attached to the plane, however, the business' President Hal Chrisman stressed that they had not changed anything on the plane before the test flight on Friday. Instead, Chrisman said that Friday's test flight would have been used to establish a "baseline aircraft performance" before they modified the plane.
Veteran airline pilot, and online aviation commentator, Juan Browne told FOX 13 News that the crash raises a number of questions that the NTSB and FAA will have to answer during an investigation. 
One thing that stood out to Browne is the type of aircraft that crashed – he noted that he doesn't know of any reports of a Cessna 208B Grand Caravan EX breaking apart in mid-air. 
Initial reports that came in around 10:30 a.m. the day of the crash indicated that plane may have collided with another plane in mid-air. It was later determined this was a single-plane crash. Based on aerial photos of the crash site from local media, Browne said it appears the wing came off the plane long before it crashed.
"What were they doing that doing that they managed to pull the wings off it," asked Browne. "I'm not sure why they're testing it to this degree. Why are they testing it this hard just to get a baseline – or was it a maneuver performed incorrectly and they accidentally overstressed the air frame?"
In a release to FOX 13 News, Raisbeck noted the two test pilots that were on-board had thousands of hours of flight experience between them. A flight test director and an instrumentation engineer were also on-board.
Browne said that there's a number of scenarios that could have played out that would cause a wing to come off a plane based on the preliminary data that's been made available so far. He noted a few possibilities including acrobatic moves with the plane taking on too many negative G's from flying upside down, or if the aircraft was grossly exceeding the designed speed limitations for the plane.
He stressed that those are just possibilities, and that the NTSB will need to pour over data to make an ultimate conclusion. Typically, investigations take a long time – though investigators will have one thing working for them: the data Raisbeck likely would have been recording since this was a test flight.
Had the crash not occurred, the company would have modified the plane and collected data to hand over to the FAA to get a certification of it's work that could be duplicated on other planes in the future. 
According to FlightAware.com, the single-engine Cessna 208B Grand Caravan EX took off from Renton at 9:24 a.m. It traveled 122 miles. The plane was at 9,100 feet and traveling at 92mph before dropping off the radar.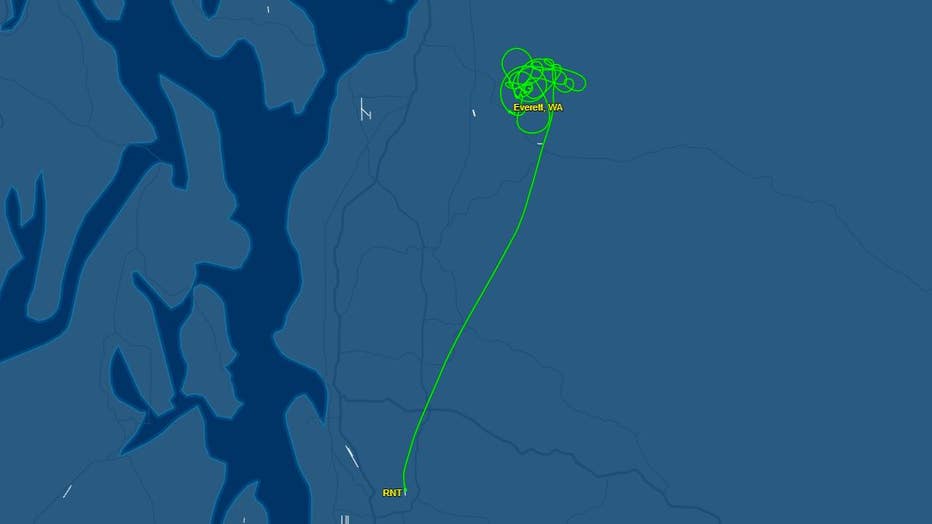 The National Transportation Safety Board (NTSB) is investigating the cause of the crash.
"Raisbeck cannot speculate as to the cause of the accident ahead of the findings of the NTSB. Raisbeck prides itself on a legacy of safety and is committed to cooperating with authorities on the investigation. Out of respect for the families, Raisbeck is not commenting on any crew members involved in the accident, at this time," said Chrisman.
The Snohomish County Sheriff's Office closed down Highway 2 at 88th St. SE & 100th St. SE/Westwick Road in Snohomish. It has since reopened.
Check our live traffic map here.
No further details have been released.
This is a developing story, and will be updated.