Crews accelerate pace of search in mudslide zone


OSO, Wash. -- It's a slow process, moving through the mud and debris and searching for victims.

We're learning more about the resources crews are using to cover the one square mile of land.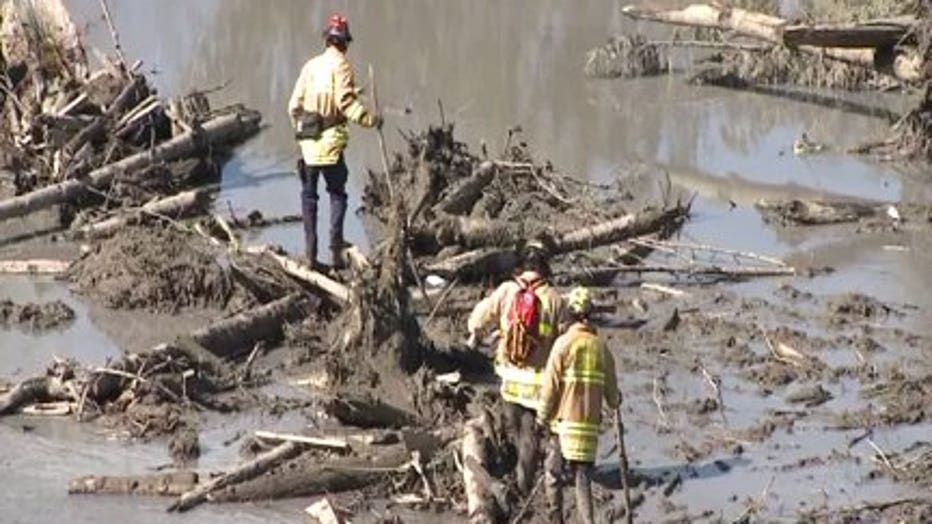 It has been an overwhelming experience for those on the ground in the slide zone.

They are working long difficult shifts and though professional, they have to emotionally find a way to deal with what they see.

Snohomish County Executive John Lovick knows the feeling and he still struggles.

"When I flew over the area on Sunday, I said that you needed to see it to believe it. Now that I've seen it from the ground, I must tell you that I still can't believe what I saw," Lovick said.

Day 5 on the debris field Wednesday brought no change to the official number of dead, but officials say with so many people still missing and unaccounted for, the number will all but certainly go higher in the coming days and weeks.

In spite of the fact that officials say that there is little chance of finding anyone else alive, the pace of the rescue effort appears to be accelerating.

"We set up a grid system that will ensure that we're covering all the areas and we will cover it more than once. We usually do it once, twice, three times as needed," Operation Section Chief Steve Westlake said.

And above, helicopters are working to guide those on the ground; two military helicopters and one each from the Snohomish County and King County sheriff's offices.

"We've doubled our effort. The FEMA and state teams that are here are doing an incredible job but I think we need to take a step back, guys, and look at the magnitude of what happened. The debris field is huge. It is complex. It is dangerous," county Director of Emergency Management John Pennington said.

It's dangerous for ground crews and especially for search and rescue dogs. Their help is invaluable -- they have found many of the dead and they work until they can work no more. So starting Thursday they will be moved from the west to the east side and based out of Darrington.

The thought is they will have more stamina on terrain that's not as mucky.
"They are getting very fatigued very early due to the type of terrain and mud and debris that they're on. So that's been very difficult, so we made a different plan to help the dogs last longer through the day," Westlake said.