Crew of accused violent crooks identified in attack on grandmother -- arrested; 1 pleads 'not guilty' to robbery, 2 others accused of using stolen credit cards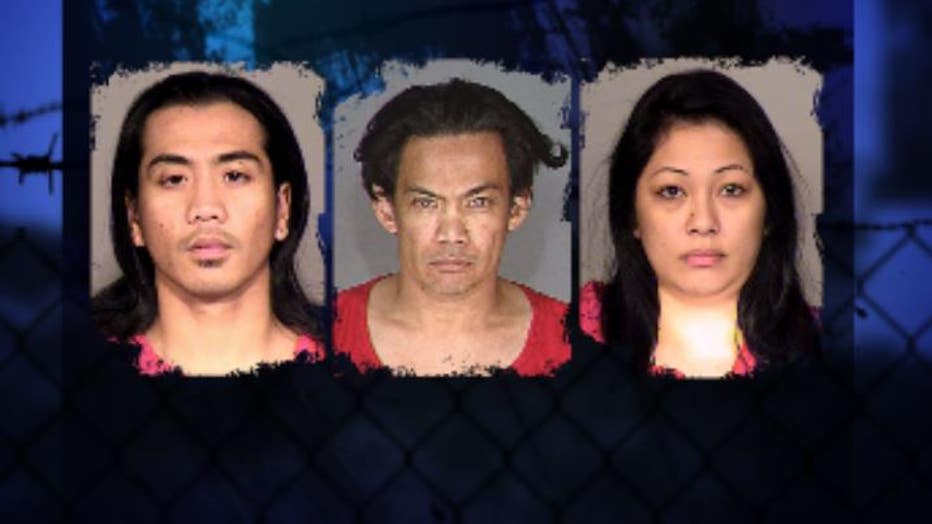 CASE UPDATE November 25, 2015 -- Mark Sampayan pleaded 'not guilty' to first degree robbery charge. His bail remains at $250,000 after a judge denied a reduction based on Sampayan being a danger to the community.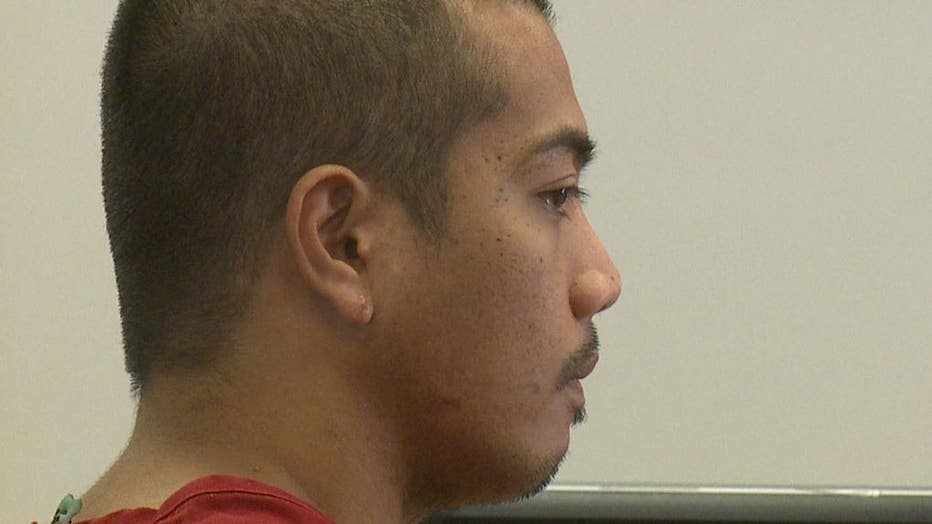 Robbery suspect, Mark Sampayan, in court Wednesday
CASE UPDATE November 17, 2015 -- Charges have been filed in the case of the Shoreline grandmother who was attacked that you helped solve. All of you know how much time I spent working on this case and am so proud of the effort by all of our WMW viewers, Det. Christina Bartlett, Sgt. Cindi West and Crime Stoppers of Puget Sound to get Lila the justice she deserves. Levi Pulkkinen posted a story on WWW.SeattlePI.com about the charges. Lahaina Sarmiento told detectives that she, Mark Sampayan and Alexander Leyva lost all their money earlier in the day gambling at the Tulalip Casino. Hungry, broke and high on methamphetamine, the detective said the group went to Haggen to steal food but then Sampayan stole the elderly woman's purse instead, knocking her down when she tried to hold onto it. After the robbery, they divided up the contents of the her purse and went on a spending spree. I aired the surveillance video on Washington's Most Wanted of them using her credit cards at numerous stores from Mill Creek to Ballard and your tips to Crime Stoppers led to their identification. One suspect, Alexander Leyva, swore he would surrender and even begged detectives not to put him on Washington's Most Wanted. Sampayan is now being held on $250,000 bail and will be arraigned Nov. 25th. Thank you all for helping Lila!! CAPTURE UPDATE November 9, 2015 -- The last of the four wanted suspects, Alex Leyva, surrendered on Monday. King County detectives arrested Mark Sampayan and Orlando Mendoza Friday night at a home in Seattle thanks to a Crime Stoppers tip from a Washington's Most Wanted viewer. Sampayan is the suspect accused of hurting the Shoreline grandmother when he knocked her down during a purse theft. Her face was terribly bruised and swollen and she broke a rib. Lahaina Sarmiento did the right thing and surrendered to King County detectives on October 28th. CASE UPDATE October 30, 2015 -- Another major break in the case that so many of you have helped solve: King County detectives say they have now identified four suspects accused in the attack and robbery of an 85 year old woman in Shoreline. One is in custody after surrendering this week. Lana Sarmiento did the right thing and turned herself in. Investigators say she was driving the getaway vehicle, a white Chrysler New Yorker. Now, detectives are asking for your help finding the other three suspects, especially Mark Sampayan, who deputies say is the one who stole the victim's purse and injured her. "This guy clearly knows everybody is looking for him," says King County Sgt. Cindi West. "He cut his hair after being featured on Washington's Most Wanted and he's the one we want the most out of this group because he's the one responsible for injuring the elderly victim." The other two suspects are Orlando Mendoza, a.k.a. 'Orly,' who has two felony convictions for drugs and forgery and Alex Leyva, who detectives say is seen strolling through the aisles of the Shoreline Fred Meyer store before he used the victim's credit cards to buy gift cards. "We're hopeful that as we're progressing and we're getting tips that the rest of them will be in custody shortly," adds Sgt. West. If you can tell deputies where to find Mark Sampayan, Orlando 'Orly' Mendoza or Alex Leyva, call Crime Stoppers at 1-800-222-TIPS.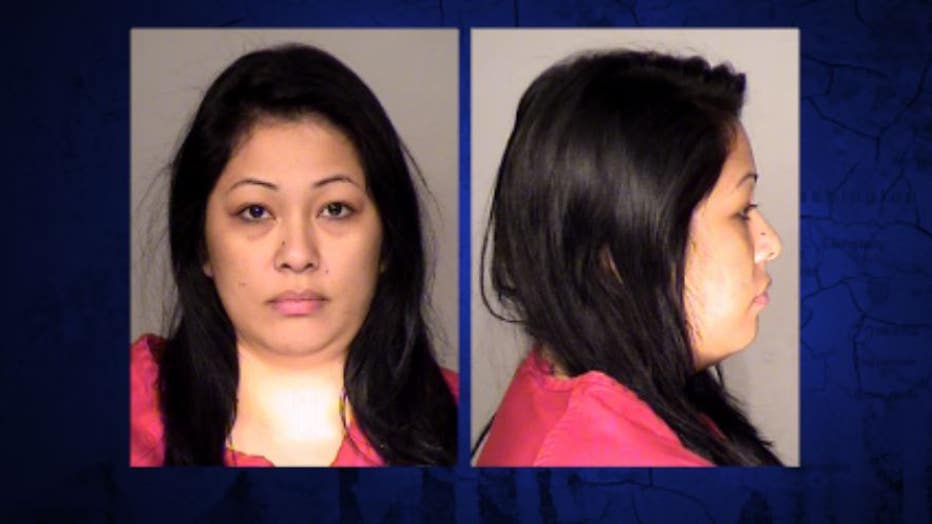 CAPTURE UPDATE October 28, 2015 -- Lahaina Sarmiento did the right thing and surrendered to King County detectives on Wednesday. She is accused of using the stolen credit cards belonging to an 85-year-old woman named Lila who was attacked outside the Haggen store in Shoreline for her purse. The two other suspects in the case are still unidentified. CASE UPDATE October 23, 2015 -- There's been a major break in this despicable crime King County detectives say thanks to Washington's Most Wanted viewer tips they've identified the female suspect as Lahaina 'Lana' Sarmiento. "People have a sense that this could be my mom, this could be my grandma and then seeing her injuries even makes it worse. We had more tips on this case than I think I've ever had on this case and they all named her as the suspect," says King County Sgt. Cindi West. "We need to get her off the streets for a couple of reasons: She committed a crime by using our victim's credit cards but secondly, she's probably out there committing other crimes too. It appears to be how she makes her living." Sarmiento has four felony convictions for forgery and possession of stolen property as well as six gross misdemeanors for car prowling and theft.
She's just one piece of the puzzle: Detectives are still trying to identify an Asian man who used Lila's credit card to buy gift cards. Surveillance video shows him at the Shoreline Fred Meyer as he strolls through the aisles. He was last seen driving off in a silver PT Cruiser. Detectives are hoping he or Sarmiento can lead them to the suspect who actually stole the victim's purse. He's described as a black man in his 20's who rand to a 1992 white Chrysler New Yorker in Washington state license plates AWA-8017. If you know where she is or can help identify the other two suspects, call an anonymous tip into: CRIME STOPPERS: 1-800-222-TIPS You must call the Crime Stoppers hotline with your tip to be eligible to receive a cash reward for information leading to a fugitive's arrest. CLICK HERE for information on how to TEXT A TIP to Crime Stoppers. FUGITIVES WANTED IN KING COUNTY October 14, 2015 -- King County Sheriff's Detectives are trying to identify three suspects connected to the attack and robbery of a Shoreline grandmother last month. The 85-year-old and her husband were loading their groceries into the van at Haggen on Aurora Avenue N. when a thief attacked. "It was so fast, I couldn`t believe it. He got my purse and I fell flat on my face," said Lila. Photos of her taken at the hospital are heartbreaking. They show her face bruised and swollen. She also suffered a fractured rib but despite injuries, her spirit is not broken. "Horrible, horrible," said her daughter-in-law Marcia who took the photos. "She smiles. It's just so indicative of who she is, she smiles," said Marcia. While Lila was being treated at the hospital, detectives say a woman and two men were using her credit cards at stores in Mill Creek, North Seattle, Ballard and Shoreline.
"These three thugs go in and they start buying gift cards, I-pads and things like that with her credit card," said Sgt. Cindi West. Surveillance video shows the woman dressed in shorts and a distinctive Nike t-shirt. "There's one store where the female is buying slurpees of all things," said Sgt. West. There's also good video of the second suspect at the Fred Meyer store in Ballard. "He appears to be just kind of nonchalantly walking through the aisles deciding what he`s gonna buy. It appears he bought a couple of gift cards," she said. Detectives have one image of the third suspect, an Asian man who is shorter and has long hair. "It takes the lowest of the low to make a child a victim or an elderly person a victim so we want all three of these people in custody. That's our goal," said Sgt. West. Lila figures certain things are just meant to be. "I really wasn't that upset about it," said Lila but she does want justice. "I'll help put the handcuffs on," she joked. Her family is hoping somebody recognizes the suspects. "We're outraged that something like this could happen to an 85-year-old woman within a mile of her home," said Marcia. If you know the names of any of the people wanted for using her stolen credit cards, call an anonymous tip into: CRIME STOPPERS: 1-800-222-TIPS You must call the Crime Stoppers hotline with your tip to be eligible to receive a cash reward for information leading to a fugitive's arrest. CLICK HERE for information on how to TEXT A TIP to Crime Stoppers