Coyotes attack Kent man walking his dog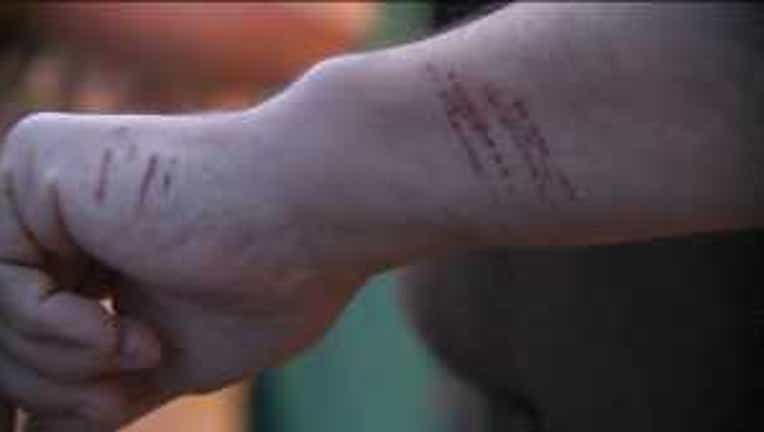 KENT, Wash. -- Three coyotes attacked a Kent man Friday, leaving him bruised and bleeding and his dog frightened.

Now, Faron Scarberry, who lives next door to a school, wants to get the word out about the frightening attack before the wild animals strike again.

"They were coming around the bush and I guess they were going after my puggle." Scarberry said.

Scarberry was walking his dog in in Kent near his home when the dogs approached.

"One of them lunged up towards me and I kind of pushed it away with my hand and its front claws scratched my hand and wrist," Scarberry said. "Then one of the grabbed me by the pant leg and started shaking my leg so I just started kicking and hitting at them to get them off of me and they ran back under the fence."



Scarberry limped away from the incident with bruised knuckles and a scratched left arm. He said one of the coyotes bit him in the leg and he received 26 shots for rabies.

A couple of days removed from the accident, Scarberry said he is a little sore.  But most of all, he's worried about his neighbors.

"The elementary school is right at the back of our property and the kids walk here to and from school," Scarberry said. "I don't want any of the kids to get hurt."

Wildlife experts said this December is the time of year coyotes are out searching for their food. And coyotes eat just about anything. Wildlife experts said lids should be kept secure on trash cans to keep coyotes away. They also said coyotes typically scare easy with loud noises.

Claudia Johnson and her kids frequently walk the area near where Scarberry was attacked. She said her cat was attacked last year in the same neighborhood.

"We kept our animals in for quite some time after that," Johnson said said.

Scarberry said he will keep a closer eye on his dog, but the run-in with the local wildlife isn't going to scare him or his puggle away.

"I'm not a big city person so this is more my style," he said.