Cost of 'meeting basic needs' in Washington skyrockets, study finds
SEATTLE -- The cost of becoming "self-sufficient" in Washington state is rising, especially in areas around Seattle.

A family of four must bring in about $75,000 a year to pay for food, basic housing, transportation, health care, child care, miscellaneous items and cost of taxes, a new University of Washington study has found. This is an increase of about 62 percent -- or around $30,000 -- over the past 10 years.

But it's not just Seattleites. According to the study, costs for a family of four have increased about 59 percent statewide.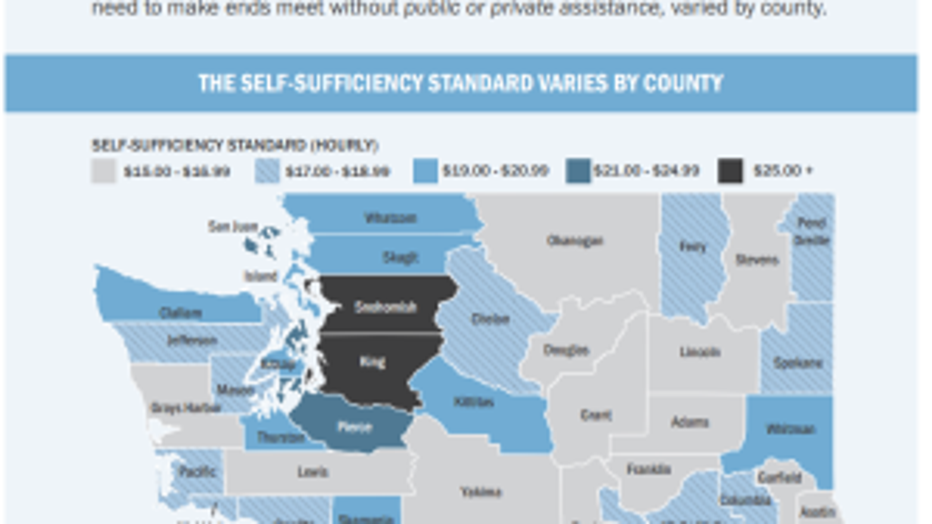 The study breaks down the self-sufficiency standard in a a county-by-county report.

Family size and geography are the primary determinants of what makes a self-sufficient income, according to the University of Washington.

For instance, one adult with one preschooler must make more than $25-an-hour to be considered self-sufficient in King and Snohomish counties. But the same family would only need to make between $15 and $17-an-hour in counties like Lewis, Yakima, and Benton.

Diana Pearce, with the University of Washington School of Social Work, says the study confirmed a "growing gap" in the cost-of-living against wages.

"We have a growing gap between the cost-of-living for families at a low-income level and wages," Pearce said. "Housing, food, health care is all going up faster."

Pearce said the bar for basic needs is strictly bare bones. Nothing is built in for allowances, such as ordering pizza.

Even as the cost of basic needs very drastically county-to-county, a single trend emerges: Cost is going up faster than wages. And minimum wage isn't enough.

"Only single adults, in some counties, can survive on $11 an hour or less," spokesperson Kim Eckart said in a UW News article. 

Seattle ranks third, after San Francisco and Brooklyn, for the hourly wage required to support a single parent, a preschooler and a school-age child.

Pearce said housing and child care costs have increased dramatically over the years.

Pearce has worked to compile self-suffiency standards for areas across the United States.

Head to the University of Washington's website for more on the study.