Controversial judge to speak at prayer breakfast; Tacoma mayor to skip event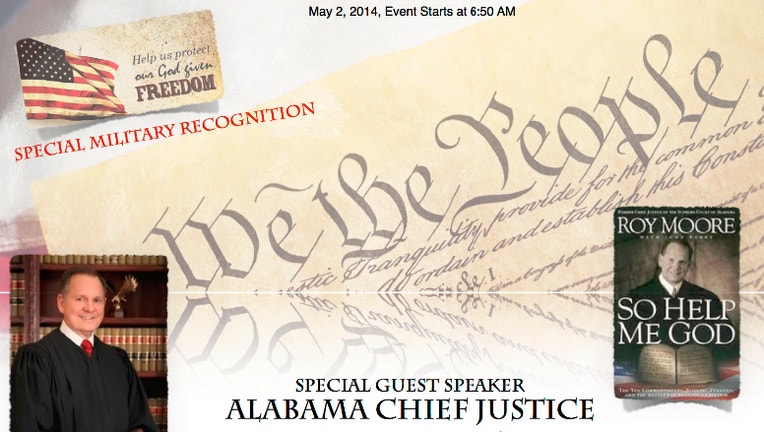 article
TACOMA -- Controversial Alabama Chief Justice Roy Moore, who has outspoken views on church and state and who is speaking out against same-sex marriage, will be addressing the annual Pierce County Prayer Breakfast on Friday at the Tacoma Dome.  At least one local politician won't be attending.

"His philosophy about marriage equality is really the opposite of what we're trying to do as a city, so I thought it was best for me not to attend," said Tacoma Mayor Marilyn Strickland, who usually gives an opening prayer at the annual breakfast.

She said that since the breakfast not an official city event, she did not talk to organizers about her concerns.

"I wasn't trying to turn this into a big media event, I just figured I wasn't going to attend this year. They were probably able to read into why I didn't attend, but I never said to them explicitly I'm not attending for this reason."



Moore attracted national attention 10 years ago, when he refused an order to remove a display of the Ten Commandments from a state courthouse. He lost his job at the time, but he gained a lot of supporters in the religious community.

That's one of the reasons he was invited to be the speaker at this week's Prayer Breakfast.

"The Ten Commandments are a big part of the Bible, so why not talk about that?" said Paul Wagemann, who is with the Greater Tacoma Christian Laymen's Outreach.

More recently, Moore has been outspoken about same sex-marriage, calling for a U.S. constitutional amendment to define marriage as the union of one man and one woman.

At a rally in 2012, he said Satan was to blame.

"He's convincing many in our land that they can form a marriage between two of the same gender. How God must be sad about this."

When asked whether prayer breakfast organizers were concerned about Moore's stance, Wagemann said, "That did not even come up in the discussion, to the best of my knowledge."

Organizers say leaders from other cities and the county are expected to attend. They hope those who do show up realize the event is not meant to be political.

"Certainly we all have different points of view, our country is built on different points of view," said Wagemann. "What we're trying to bring to the table is someone who would be interesting to people."

Michelle Douglas, with the Rainbow Center in Tacoma, said Moore is a disappointing choice. She said faith can be used to unite people, but his track record has been as a divider.

Moore's office in Alabama said the judge was traveling and could not be reached for comment.