Contamination so bad even liquid mercury found in soil


BELLINGHAM -- Using some unique methods, crews are removing and treating high levels of mercury contamination found in a small area of the Georgia-Pacific West cleanup site on Bellingham's waterfront.

"You can actually see beads of liquid mercury in the dirt we're digging up," said state Department of Ecology Site Manager Brian Sato. "It's nasty stuff and we're getting rid of it."

BELLINGHAM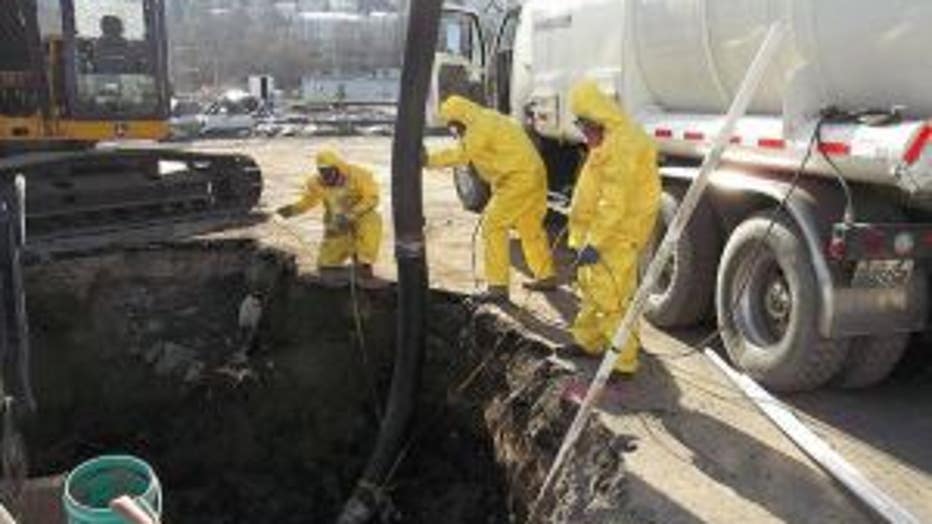 With a specialized, high-powered vacuum truck doing the bulk of the heavy lifting, crews are sucking up large quantities of dirt loaded with small beads of mercury.

"Most of what we're pulling out of the ground is soil that's laced with miniscule droplets of mercury," Sato said.

Occasionally, larger beads of mercury can be sucked up with a custom hand-held vacuum.

"So far we've removed about 500 tons of contaminated soil with the excavator and vacuum truck," Sato said. "And we've recovered about a quart of liquid mercury with the small vacuum."

Crews have been digging in two small areas, each about the size of four parking spots. These spots are considered the most contaminated areas on the entire 64-acre cleanup site.

The excavation areas expanded as crews dug below the surface and located the mercury contamination.

Originally, the project was expected to cost approximately $1.8 million. The Port of Bellingham is now estimating it might cost up to $3.2 million because of the increased digging and mercury treatment.

Ecology will reimburse half of the port's cleanup costs through the state's Remedial Action Grant program. The program helps pay to clean up publicly owned sites and is funded with revenue from a voter-approved tax on hazardous substances.

The mercury cleanup work is expected to be completed  in the early summer.

The contamination was left behind by Georgia-Pacific, a former pulp mill on the Bellingham waterfront that used mercury as part of its pulping process to create chlorine and sodium-hydroxide.