Congressman tours bridge damage, says money 'won't be a problem at all'


MOUNT VERNON, Wash. -- It's been five days since part of the Interstate 5 bridge crashed into the Skagit River after a truck hit an overhead steel girder, but there are signs of progress as parts of the temporary span started to arrive.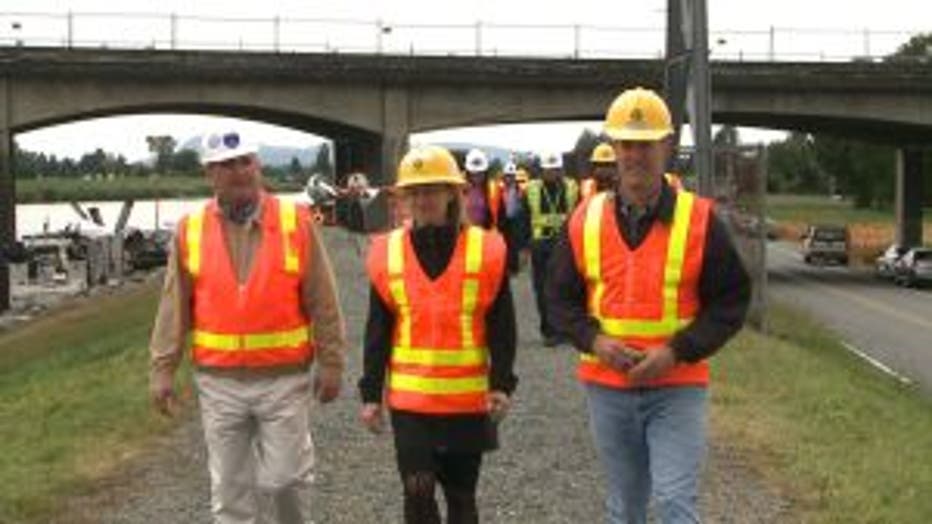 Divers continued their dangerous work looking over damaged wreckage submerged underwater.

"We've made some significant progress," said Bart Treece, of the Washington State Department of Transportation. "We've got hydraulic sheers that have been cutting up this bridge. We've removed about two-thirds of the debris."

Rep. Rick Larsen, D-Wash., who represents Washington's 2nd Congressional District, which includes the area north of the Skagit River, including Burlington, toured the damaged section of bridge alongside the National Transportation Safety Board.

Larsen said repairing the bridge as fast as possible is vital to the state's economy.

"People are working together very closely," Larsen said. "There's still some dollars to be had from the emergency relief fund at the federal level."

Investigators said an oversized truck caused the bridge's collapse on May 23. The oversized load from Canada struck a steel girder, causing the bridge to collapse.

The truck had the proper permits and followed a route suggested by WSDOT, but the state doesn't guarantee the clearance height on any of their bridges and said truckers or pilot cars are responsible for their loads.

"The published heights are a little bit shorter than the actual height," said Treece. "We've built in a little slack in case we have an overlay project on the bridge or if there's a truck with over-inflated tires on the bridge. We want to make sure we're extra safe, that's just an added layer of safety in there."

The truck driver has been cooperating with the NTSB's investigation into the crash.

Meanwhile, lawmakers promise a repair is coming very soon.

"The money won't be a problem at all. I've talked to (U.S. Transportation) Secretary Ray LaHood; I'm assured that nothing is in the way of making sure things happen quickly," Larsen said.

A temporary span is scheduled to be put into the bridge in mid-June.