Community coming together for state trooper recovering from cancer


OLYMPIA -- She's a model of fitness for the Washington State Patrol. But, a rare cancer has Trooper Renee Padgett in a battle, and her fellow troopers hope well-wishers will come to Marymoor Park in Redmond next month — to fight that battle with her.

Trooper Padgett has served with WSP for more than 20 years. Off duty, she lives life with her family to the fullest.

"We would hike and bike," Padgett said. "I was lifting weights. And, pretty much every day, we did an outdoor activity."

In fact, she thought it was just a hard workout that had her ribs hurting a year ago. But then, it got much worse.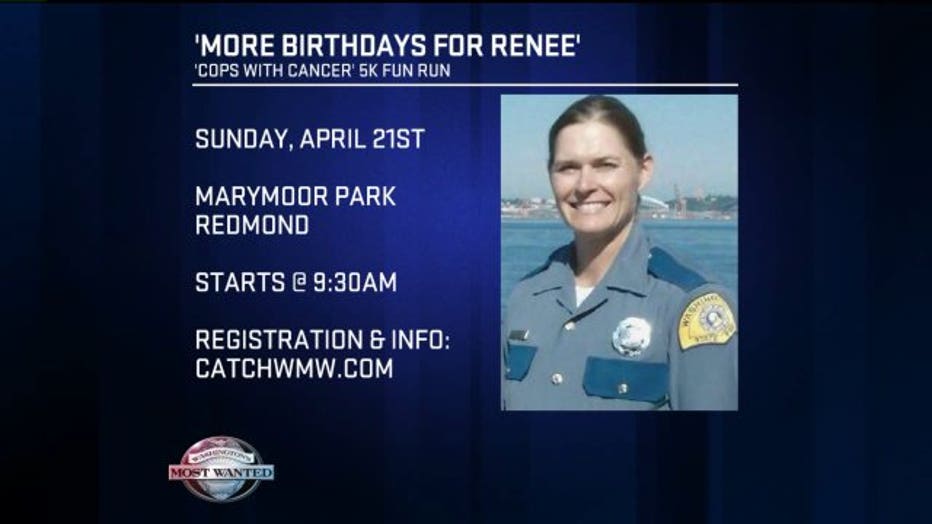 "It was like a seizure in my chest, like muscle seizures," Padgett said. "I was taken to the emergency room, and they said something was wrong with my bones."

Padgett was diagnosed with a rare, aggressive blood cancer called Multiple Myeloma. Her doctor at Virginia Mason Hospital in Seattle, Prakash Vishnu, MD, said it was serious from the very start.

"She had multi-organ involvement by this disease. Within a few days of me seeing her — by the time I could get a diagnosis — she had to be admitted to the hospital, because of the sickness that she had."

But Renee's a fighter, as you can see from her special boxing gloves — even battling through a tough stem cell transplant. "It`s like having a newborn system in your body," says Trooper Padgett. "So, I have a 45 year old body, but a baby system. So, I`m very weak, but everyday I'm feeling stronger."

Renee spent her birthday in the hospital, isolated and going through treatment. But on April 21st, her fellow troopers and the non-profit group, Cops with Cancer, want you to take part in a 5K fun run. The money raised will help Renee, and hopefully giver her more birthday's to celebrate — this time with her family.

Pat Ellis with Cops for Cancer said, "You know a police officer. We see them on the street. We see them in our cars. We get to see them when they're having to deal with the public in some form. But, what we don't get to see it that they're moms and they're dads. They have families just like we have families. They love and cry just like we love and cry. They're people too."

Renee is lacing up her shoes, too.

"I`m overwhelmed with the generosity that I've seen," she said. "People have really stepped up to help me in this position. It's quite overwhelming, and I'm super-excited for the event, because I want to walk it myself, and prove that I can do it."

Join Trooper Padgett for 'More Birthdays for Renee' on April 21.


Money raised goes to help her and her family financially, as she continues to recover from cancer.

CLICK HERE for more information on the event, and how to register!

CLICK HERE for the event's Facebook page