Commentary: National tragedy shouldn't overshadow local accomplishments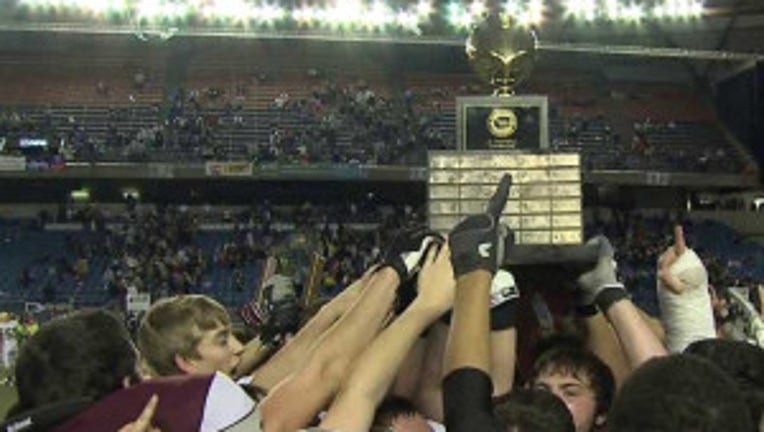 SEATTLE -- We start by putting our Bud Light spotlight on a weekend of local triumph, taking our minds off of national tragedy.

No words can explain the horror of Kansas City Chief Jovan Belcher's murder-suicide. An incomprehensible act that took a 22-year-old girl's life – and left a three-month old baby without a mother or a father. Our thoughts and prayers go out to the Chiefs family – and everyone affected by the tragedy.

But there were too many local sports accomplishments to let a tragic event overshadow an incredible weekend in Western Washington.

And it wasn't just the Seahawks. Local football teams overcame the odds by winning state championships at the Tacoma Dome and the Husky volleyball team staged an incredible comeback at home. In our sports world at least, these are the stories that deserve the most attention – not a selfish criminal.

Three weeks ago, I called the Montesano Bulldogs one of the underdog stories of the year. Their historic grandstands had burned down. They played their home games on the road. It was supposed to be a rebuilding year. Instead, Montesano won 12 straight games to win its first state title in 18 years. Continue to celebrate that accomplishment down there. If you weren't before, you're now small-town heroes – who will be talked about forever in Montesano lore.



The same goes for the Lynden Lions – winning their second straight football title. Skyline winning its sixth title since 2000. Bellevue winning its tenth in the last 12 years.

Which brings me to a challenge to the Spartans and Wolverines: I don't care who else you schedule – play each other every single year. No excuses. Just plan it.

There isn't a football fan around that wouldn't want Skyline and Bellevue to strap it on one more time next week – and settle the score for good. Although the Washington Interscholastic Activities Association  won't allow it, there's no reason these teams shouldn't meet somewhere -- anywhere  -- next week. Which team is better this season?

Unfortunately we'll never know for sure.

I understand the need for out-of-state scheduling. This year, Bellevue beat Trinity of Texas. Skyline pummeled Cottonwood of Utah. But a Bellevue-Skyline game needs to be an annual event.

Elsewhere, kudos to the UW volleyball team – staring match point in the face, and escaping with a comeback win over Hawaii in the second round of the NCAA Tournament. The crowd was exceptional. The dramatics at an all-time high. And the lady Dawgs showed courage and grit, advancing to regionals where even more dramatics await.

The Huskies travel to Omaha to face Nebraska next Friday. In an ugly incident two years ago, Husky coach Jim Mclaughlin defended his team, going after Nebraska coach John Cook.

Mclaughlin will say this week is about his team – and not a coaching rivalry. But let's be honest – there's no one who wants to win this more than the Huskies coach. I praise the Huskies for this weekend – but i also challenge them to beat Nebraska on the road this week.

In the end, I'm heartbroken by the story in Kansas City. It stole headlines and filled twitter timelines all weekend long. But when it comes to what happened here locally in sports – I'm not letting one incident steal the spotlight away from those accomplishments.