Commentary: Hey Seattle – Husky volleyball needs your help in the Final Four!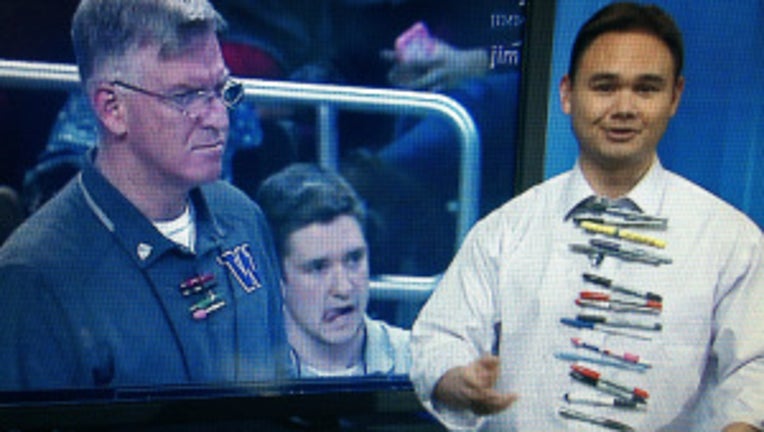 SEATTLE --

I'm wearing all these colored pens tonight.... as a tribute to coach Jim McLaughlin, whose Husky volleyball team is headed to the Final Four in Seattle next week - and whose players, local product Kylin Munoz and All-American Krista Vansant will join us in-studio coming up.

If you missed it, last night's national quarterfinal win over USC was arguably the most impressive comeback in school history. The Dawgs, in LA no-less, came back from two sets to none to beat USC, 17-15, in the final set. It was dramatic, it was courageous, it was the perfect formula and storyline – considering the Huskies can now play for a national title in their hometown.

And if you've seen movies like "A Beautiful Mind" or "Good Will Hunting," you'd enjoy watching possibly the most studious, prepared and cerebral coach in the world. After all, if you want to know the Huskies strategy to winning a national title, it's probably somewhere in here… or here… or here.

McLaughlin might be known for his intricate whiteboards – often difficult to decipher. But somehow, someway, the message from a mind overflowing with stats, philosophy and techniques is delivered.

Most coaches are considered educators, but McLaughlin takes the cake. Strike up a conversation about volleyball, and you might walk away knowing more about geometry, angles and physics than you ever could imagine.

After all, you might not know that "the angle of incidence is equal to the angle of reflection" – but you can be sure McLaughlin's players know it. And no doubt – he's prepared. It's not surprising he declined being here tonight because he's already scouting Penn State. Hope he's got enough colored pens for that.

Listen, volleyball might not be the most popular sport – but McLaughlin's teams make it incredibly fun to watch in person. And this week is the perfect chance to see them up-close with a national title on the line - a chance for Krista Vansant to emblazon her name next to Courtney Thompson and Sanja Tomasevic as Husky All-Americans who won national titles.

Home court in volleyball can be a huge advantage – especially in the unlikely event that it comes in the Final Four. I encourage everyone to come be a part of it. And bring your pens too for the white board. That way we can all wish Coach McLaughlin congratulations, if they win a national title.