Commentary: ESPN has Pac-12 TV rights, but not the right to disrespect member schools like UW


We're now well past midnight on the East Coast, so according to ESPN our ratings will be 38% higher than if we started at a decent hour. Still, I'm not sure if they meant "viewers" or "insomniacs."

Either way, what a petty response from certain broadcasters at ESPN to these comments from Huskies coach Chris Petersen about the late kickoff times in the Pac-12: "We apologize (to our fans) for these late games," Petersen said last week. "And I'd also like to reiterate it has nothing to do with us or the administration. We want to play at 1 o'clock. It hurts us tremendously in terms of national exposure. No one wants to watch our game on the East Coast that late, and we all know it."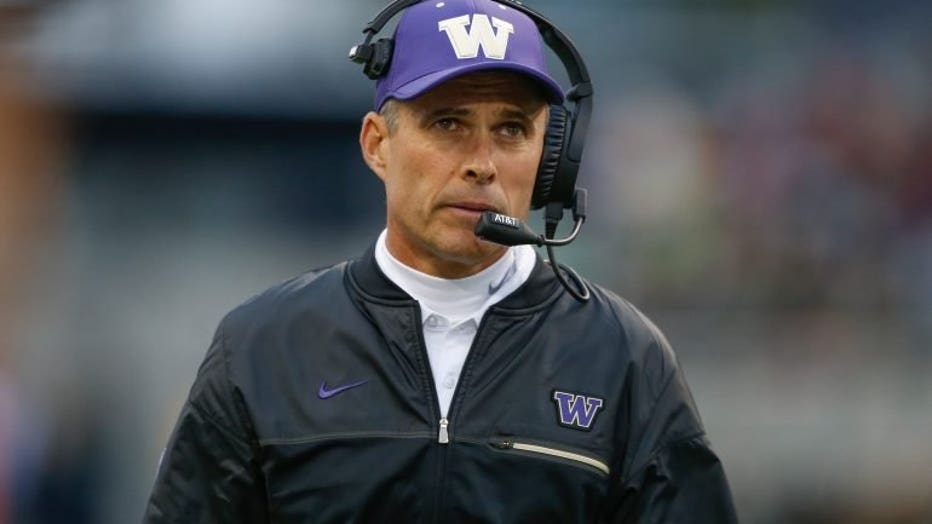 First off, Petersen is right: It alienates a big part of any fanbase, especially families that want to bring their kids to a game but can't when it starts at 8 o'clock. And regardless of any exposure data, it certainly hurts conference perception.

Case-in-point: Two years ago, Christian McCaffrey broke Barry Sanders' 27-year-old record for all-purpose yards in a season, but according to Jon Wilner at the Mercury News, 55 percent of those yards came after 10pm EST. Not surprisingly, that was a factor in not winning the Heisman Trophy.

You see, if Jake Browning or Luke Falk has an amazing game but it ends close to midnight, who sees the highlights? When those who didn't stay up to watch it wake up the next morning, they're already in NFL mode - it's a small blip on their radar, if at all. But if Penn State's Saquon Barkley runs for 200 yards on a Saturday afternoon, everyone sees those highlights ALL DAY LONG.

And yet, ESPN seemingly took offense to Petersen's comments, as seen in a variety of ways:

1. College football analyst Kirk Herbstreit said this on College Football Gameday: "As an advocate on this show for the Pac-12 for the last 20 years, wanting to try to bring as much exposure to that conference as we can, you should be thanking ESPN for actually having a relationship thanks to Larry Scott with the Pac-12 because now your games are seen."

Oooh, be grateful that we even broadcast your games! With that rationale, the Pac-12 should've done a deal where their games are guaranteed on ABC, CBS or NBC even if they start at 2am. Memo to Herbie: The Pac-12 is not a mid-major conference that needs its own weekday like Tuesday or Wednesday for exposure, so stop treating it like one.

2. The game broadcasters defended the network, citing data and even saying their own families were watching from the East Coast (quite scientific), but then got nasty in the way they described UW's non-conference schedule and then the head coach himself: Sideline reporter Quint Kessenich used actual cupcakes to describe UW's non-conference schedule, and then play-by-play announcer Mark Jones referred to Petersen as "irascible and somewhat cantankerous," on the heels of Petersen's refusal to meet with the broadcast crew the night before the game.

The irony here, is, at this point of a blowout game – when it's 1:30am on the East Coast – not many people are still watching the game aside from Husky fans. So they basically alienated the great majority of the audience that they still had. Not exactly a smart play.

Again, the 12-year, $3 billion TV contract with FOX and ESPN was a major windfall for the conference. But while it's a sacrifice having to consistently play at these late hours – and it will continue to be until the current deal is up in 2024 - it shouldn't have to sacrifice respect as well.

The pushback toward Petersen and the Huskies this weekend, in my opinion, was downright disrespectful and completely uncalled for. The conference should expect and demand better.

In fact, here's my visual analysis of the way ESPN handled Petersen's comments from last Monday (grapes on a table).

We've got a few grapes here. And boy, are they sour.