Commentary: Apple Cup sucker punch shouldn't tarnish college tradition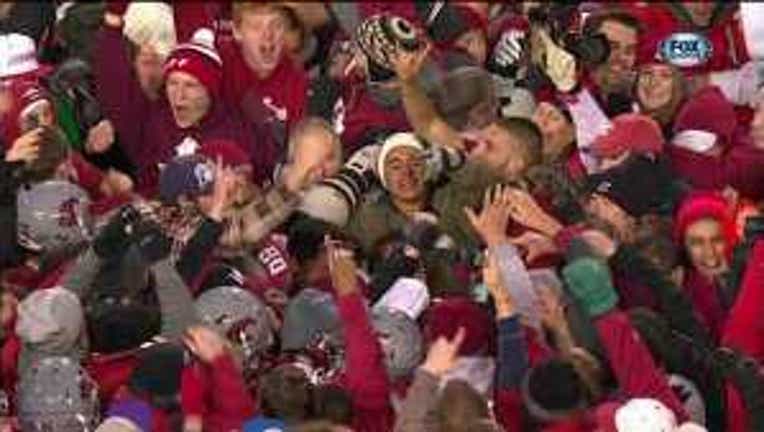 We start by putting our Bud Light spotlight on the time-honored college tradition of rushing the field after a big win. This was the scene in Pullman Friday night. A sea of crimson and gray that made every Cougar fan smile.

But the celebration's been overshadowed by a despicable act – a fan punching Husky tight end Austin Seferian-Jenkins on his way off the field. Fortunately, Seferian-Jenkins was okay, and he didn't fight back, which could've made an ugly scene even uglier.

I'm hoping the fan will be identified – then banned from the stadium, and prosecuted to the fullest extent of the law. But in my opinion, it's no reason to prohibit future celebrations on the field.

Some will argue rushing the field isn't safe – that overzealous, often inebriated students, jumping from the stands is a recipe for disaster. Forget the coaches, officials and opposing players trying to escape – fans could be trampled or injured. The schools themselves might be fearful of lawsuits for not properly keeping the fans safe.



But this is a sacred tradition. A truly special moment for fans and alumni to celebrate an unexpected or upset win, alongside the players who made it happen.

It's an occasion of unity – of school pride – one most participants will never forget for the rest of their lives.

Yes, sometimes time-honored traditions have to be altered. It's why we don't see fans tearing down the goalposts anymore. The number of lawsuits and serious injuries stemming from that tradition finally brought it to an end.

But for how long have fans stormed the field after college games – and how many attacks on players have actually happened?

I can think of one – and it was a Nebraska player punching a Missouri fan in 2004. Appropriately, the player was suspended and fined after pleading guilty to public disturbance of fighting.

Yes, the schools must be vigilant: they should make it clear students caught breaking the law face expulsion. That their fans not only face a huge risk by taking part in the celebration – but, if caught breaking the law, will suffer a lifetime ban from sporting events and will be prosecuted to the fullest extent of the law.

But for now, what happened in Pullman on Friday is an isolated incident and should be treated as such.

It's simply not enough to take away a privilege thousands of college fans have enjoyed for years.

It makes college sports unique. And it's a tradition Cougar fans deserved to enjoy on Friday night.