CNN announces 11 Republicans to share stage in presidential debate next Wednesday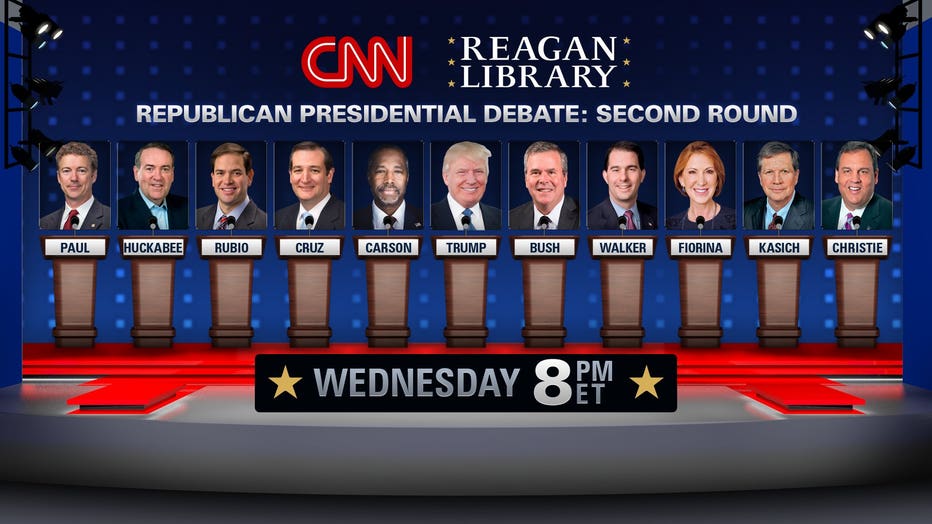 The stage is set for the CNN Reagan Library Debate next week in California, with Carly Fiorina joining 10 other leading Republican presidential candidates at 8 p.m. ET. (Photo: CNN)


WASHINGTON (AP) — Eleven Republican presidential candidates have qualified for next week's primetime debate.

CNN announced the slate Thursday night. It's the largest group to share a presidential debate stage in modern political history.

The candidates scheduled to face off Wednesday at the Reagan Presidential Library include former Hewlett-Packard CEO Carly Fiorina. She didn't qualify for the first debate, but a polling bump and a big lobbying push persuaded CNN to broaden its participation criteria.

Other participants include businessman Donald Trump, former Florida Gov. Jeb Bush, Wisconsin Gov. Scott Walker, Texas Sen. Ted Cruz, Kentucky Sen. Rand Paul, Florida Sen. Marco Rubio, retired neurosurgeon Ben Carson, former Arkansas Gov. Mike Huckabee, New Jersey Gov. Chris Christie and Ohio Gov. John Kasich.

Five others will participate in a separate debate earlier in the day.