Classical violinists claim airline denied them boarding, left them on tarmac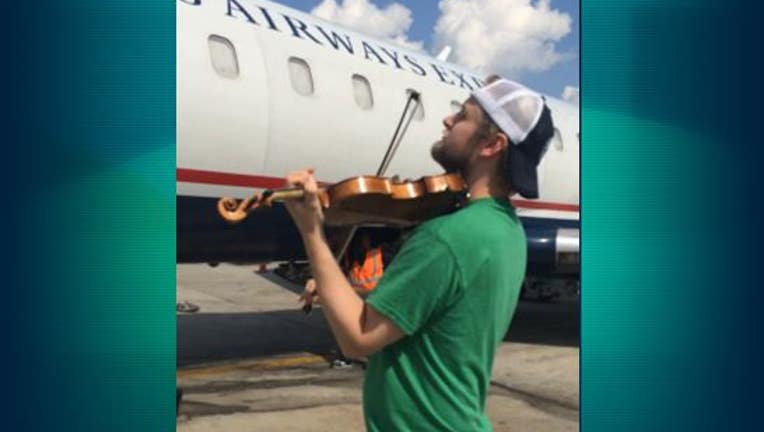 article


CHARLOTTE, NC – Two classical violinists were outraged Monday when they said US Airways refused to allow them to bring their instruments on a plane and instead left them standing on the tarmac.

Nick Kendall and Zach DePue posted video on YouTube of themselves standing outside the plane while staffers continued loading it.  As Kendall narrates, DePue takes out his violin and starts playing.

A man the duo identified as the captain seemingly ignores them in the video as they question why they aren't being allowed on the flight.

On Twitter the two members of the Indianapolis symphony and the group 'Time for Three' said an airline staffer told them the violins needed to be checked.




They reportedly argued and cited the FAA Modernization and Reform Act of 2012 which explicitly says 'an air carrier providing air transportation shall permit a passenger to carry a violin, guitar, or other musical instrument in the aircraft cabin.'

Then the two tweeted that the staffer changed his mind.

"The agent then changed his tune and told us we need to gate check out roller briefcases.  Unreal."

DePue and Kendall missed their connecting flight but after their public video and tweets the airline rebooked them and they made it to their destination in Arkansas.




US Airways did respond to the men on Twitter asking whether they had been rebooked, but other musicians have now begun sharing complaints about that airline on social media as well identifying it as one of the least accommodating of musical instruments in carry-on luggage.

WATCH THE VIDEO BELOW: