City leaders make pitch for NBA team; Stern unsure on timeline


NEW YORK CITY -- Representatives from Seattle and Sacramento traveled to the city that never sleeps to pitch to an NBA Committee as to why their city should have an NBA team.

Representatives from Sacramento and Seattle, including Chris Hansen, Steve Ballmer, Mayor Mike McGinn and King County Executive Dow Constantine met Wednesday morning with a committee of NBA team owners. They made their case before a board to bring the NBA to Seattle. The committee will then take their recommendations to the NBA Board of Governors on April 18-19.

The NBA's Board of Governors, made up of owners from all the NBA teams, will decide the fate of the Sacramento Kings in the vote.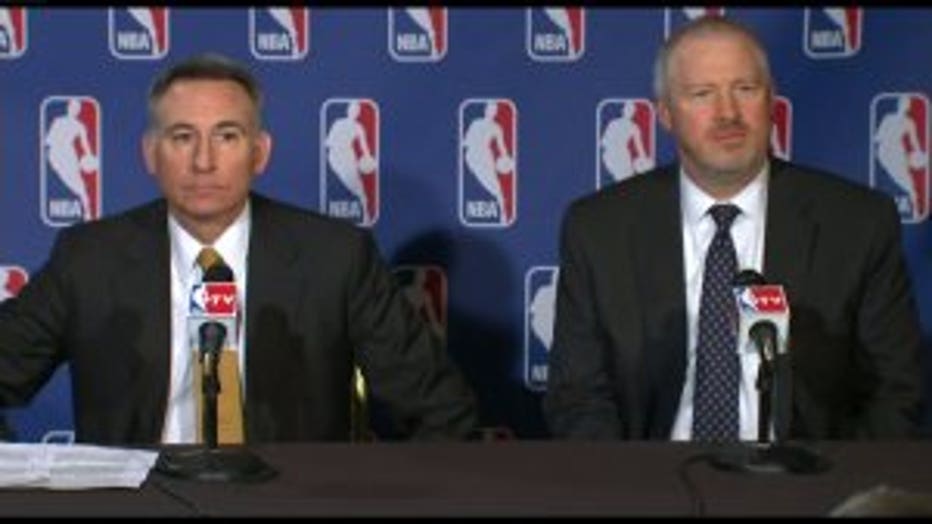 The current majority owners of the Sacramento Kings, the Maloof brothers, attended the meetings.

Following the meetings, NBA Commissioner David Stern said there is no precise timeline for a decision on where the team will land. Previously, it was expected a final decision would be made on April 18-19.

"It's not at all clear what our precise timeline is before a final decision," Stern said.

Hansen announced shortly before 4 p.m. Tuesday that 44,000 individuals from the Seattle area signed up as prospective season ticket holders on the sonicsarena.com website. Hansen released the numbers in part to show the excitement many residents show in advance of a professional basketball team possibly coming back.

Raw video of Chris Hansen with the media: 



Raw video of McGinn and Constantine press conference Part 1:



Raw video of McGinn and Constantine press conference Part 2:



Below are videos with Q13 FOX News Sports Director Aaron Levine and his reports from New York City Tuesday:

Rundowns on the presentations in New York 



Interview with King County Executive Dow Constantine



Interview with Seattle Mayor Mike McGinn