City Council OKs bill to cap rideshare vehicles on road; Mayor to sign measure


SEATTLE -- The Seattle City Council approved a bill Monday to place new regulations on rideshare companies like UberX, Lyft and Sidecar, including capping the number of drivers that can be on the road at any one time at 150.

The legislation places safety regulations around these new services, including insurance requirements equivalent to those in the taxi industry. City Councilman Tim Burgess said the legislation also calls for 200 new taxi licenses to be issued over the next two years and allows flat-rate for-hire vehicles to pick up passengers who flag them down.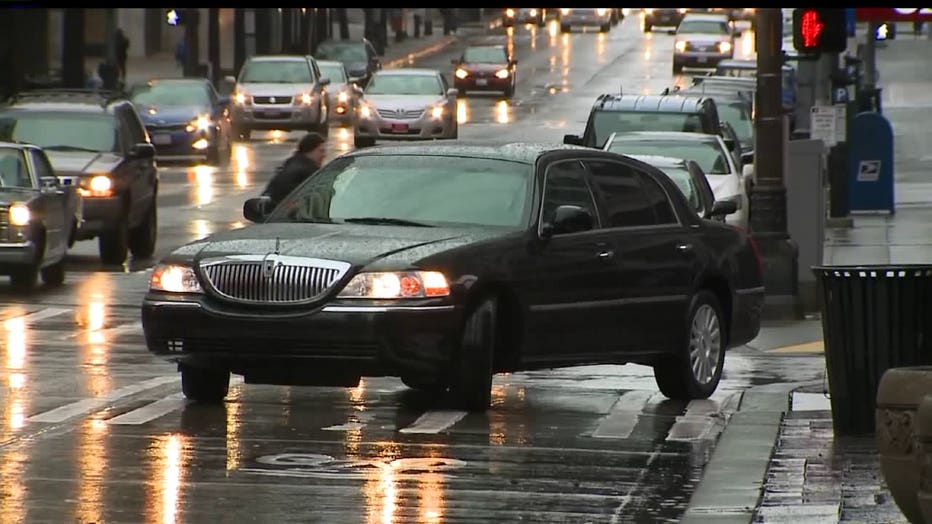 The Seattle City Council voted Monday to place a cap of 150 rideshare vehicles on the road at any one time. (Photo: KCPQ-TV)


"While I intend to sign the legislation approved by Council today," Mayor Ed Murray said in a statement after the vote, "I do not believe it is either a complete solution or a long-term solution.

"I remain concerned about the issue of insurance, which I believe is already too burdensome for taxis," Murray added. "I remain concerned about the need to level the regulatory playing field for taxis generally, which includes issues of training, fees, rates, use of technology and latitude for innovation.

"And I remain concerned about the issue of caps on rideshare vehicles, which I believe is unreasonably restrictive and unworkable in practice."

Murray said he is ordering his director of the Facilities and Administrative Services to discuss the issue with parties involved and he will submit his own recommendations to the City Council later.

UberX employs about 900 drivers.

Brooke Steger, a general manager for UberX Seattle, said, "It's astounding that the City Council has chosen to ignore the voices of nearly 30,000 constituents and move to put hundreds of drivers out of work.  This fight is not over, and, as we explore our options, we urge Mayor Murray to reject the anti-competitive and and arbitrary caps that will sling-shot Seattle's ecosystem back into the dark ages."

City Councilwoman Sally Clark released a statement shortly after the vote: "What we're voting on today isn't a complete fix, but it's a start.  The first meeting of the Taxi, Limo, For Hire Committee started out of a need to resolve conflict between the taxis and the flat rates and to better fund enforcement of rules governing the existing, legacy players.  The committee was tasked quickly with a different question: how do we bring new players with different business models into a regulatory framework built for a different time?"

Regular taxi and for-hire drivers have been complaining for nearly a year that rideshare companies have a competitive edge and are operating illegally.

Samatar Guled, a for-hire driver for seven years, said there should be a level playing field.

"During when its slow time, they would reduce their price and when it's busy they actually have surge pricing.  For us, our rates, we have to file with the city so we really don't have the same flexibility to change our rates to do all the stuff they do," Guled said.

Another complaint from taxi drivers is that the rideshare drivers don't pay liability insurance, something that can cost up to $8,000.  owever, UberX says it does have a $1 million liability policy for drivers when they are on the job.

The new regulations will go into effect in 30 days.