City blames ruptured beaver dam for flood that damaged several homes
MILL CREEK, Wash. – Homeowners in south Snohomish County said their Mill Creek neighborhood began flooding late Wednesday afternoon.

A handful of homes suffered some form of flood damage and city officials blamed the flood on a ruptured beaver dam.

Around 4 p.m. Wednesday, officials say the flow water into nearby neighborhoods had slowed and crews were reporting success removing water.




Shortly after 6 p.m., crews announced the flow of flood water that had been pouring into neighborhoods from a wetland near Jackson High School had stopped. Officials say a pair of trees fell onto and smashed a beaver dam, which then unleashed the torrent of water.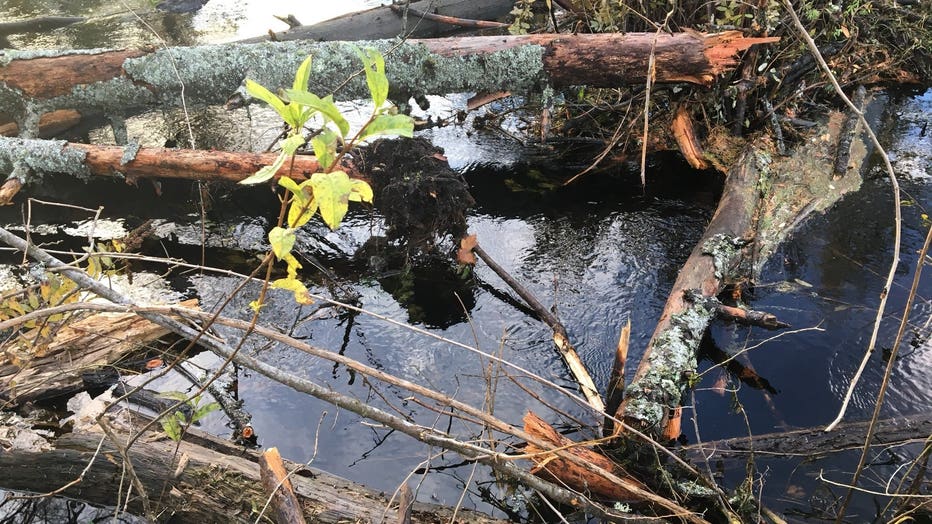 A look at the shattered beaver dam in a Mill Creek wetland. The break caused flooding in a Mill Creek neighborhood.


"This is quite an unusual event," said Joni Kirk, spokesperson for the city.

"I was like, what is going on?" said homeowner Keli Lawrence.

Neighbors first noticed water rushing down the street around 10 a.m. Wednesday – that's when city and county crews arrived to find flood water that quickly rose to chest level.

"I mean there's a guy in slacks and work shoes over there, it looks like the city of Mill Creek is all over it, which is nice to see," said Mike Holden.

Crews cleared submerged storm drains that were stopped up by leaves and debris. Sandbags were also positioned to divert water from lower elevation properties.

"It looks like it was pretty high this morning but the crawl space is probably full of water," said Holden, who owns a rental home in the impacted area.

Fire officials say as many as five homes suffered some type of flood damage.

"Hopefully it didn't get to the floor boards," said Holden.

City and county crews scrambled to bring in more pumps to combat the rising flood waters.

One homeowner shared cellphone video with Q13 News that showed flood water on their ground floor.

"As you can see, as we're talking, they're laying more hose and more pumps and we're just trying to work as fast as possible," said Heather Chadwick with Snohomish County Fire District 7.

Pumps pushed water into storm drains along Bothell Everett Highway. Officials say they had to close a lane of traffic there to accommodate the draining flood water.

The city says crews will continue pumping water through the night and it anticipates the event to continue into Thursday morning, advising anyone needing access to Jackson High School to seek alternate routes.

The city of Mill Creek released a statement Wednesday afternoon:

Two trees snapped in a Mill Creek wetland, fell on a beaver dam and smashed it, releasing a gush of water into Mill Creek neighborhoods on Nov. 15.

The subsequent flooding closed 136th Street SE in between SR 527 and Jackson High School in Mill Creek. People are still advised to avoid the area as crews work to diver the water.

Mill Creek Public Works crews were joined by Silver Lake Water District and Snohomish County Public Works crews to help pump water off the roadway into the stormwater system. As of just after 4 p.m., the water flow has slowed down and crews are making progress in the removal of water.

Currently, one lane of northbound SR 527 remains closed as water is pumped onto the roadway and into the drainage system. Crews from Snohomish Fire District 7 and Washington State Department of Transportation helped with traffic control in the area.

It is anticipated that water removal efforts will continue through the night. People seeking to access Jackson High School from the west side of Mill Creek in the morning are advised to use alternate routes via 132nd Street SE or Trillium Blvd.

The City of Mill Creek wants to hear from residents about impacts to homes. Please call the City's Public Works department at 425-551-7254 to report issues.