Citing slide concerns, U.S. Forest Service delays opening of Gold Basin campground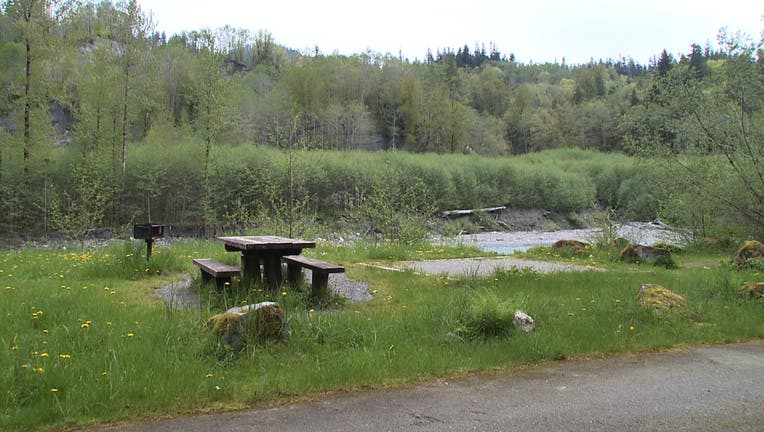 EVERETT -- The U.S. Forest Service announced Tuesday that it delaying the opening of the Gold Basin campground for a safety review to gauge the possibilities of a landslide there.

It's announcement comes five days after Q13 FOX News reported on the Forest Service's concerns of a potential landslide at the campground.

"In light of the Oso/530 landslide, we are taking a hard look at the historic Gold Basin slide path adjacent to the campground," Peter Forbes, Darrington District park ranger for the Mount Baker-Snoqualmie National Forest, said in a news release Tuesday.

"Our first goal remains helping the communities affected by the Oso/530 slide," Forbes said. "Opening the campground will be delayed until the safety evaluation is complete," he said.

The news release offered no timetable as to when the campground might be opened.

From the previous report:

The U.S. Forest Service runs the Gold Basin campground along Mountain Loop Highway near the small town of Verlot. The campground is 14 miles east of Granite Falls.

The campground already has a history of flooding, but now there's a concern that a landslide could wipe out nearly 90 campsites.

Looming above the campground is an unstable hillside with a history of landslides since the 1940s and especially in the late 1990s, according to reports.

Flooding and erosion wiped out 10 campsites over the past few years but the facility remains open.

Joel Schwarz spent Thursday (May 8) hunting for rocks along the river, knowing full well about the threat above him.

"There's really no way knowing if it's going to happen and when it's going to happen," said Schwarz. "The state geologists say that."

Engineers tried for years to stabilize the slow-moving slide in Oso and near Gold Basin, mostly to protect salmon spawning in the water.



But ever since the massive landslide in Oso, the threat is top of mind for forest officials.

The Urich family spent Thursday looking for the perfect site for an early-season camping spot. But when they learned about the sliding hill across the river, they changed their minds about staying at Gold Basin.

"Really horrified to be here. I don't want my son, my wife getting hurt," said Mike Urich.