Child dead, 4 injured when tree falls on SUV near Lake Crescent
LAKE CRESCENT, Wash. -- A large evergreen tree fell on top of an SUV in Olympic National Park killing a child and injuring four other family members New Year's Day.

Clallam 2 Fire says the vehicle was traveling east around Lake Crescent on U.S. Highway 101 when the tree came down about 2:16 p.m.

Officials say one child died at the scene. Two other children and two elderly people, believed to be the children's grandparents were seriously injured.

When firefighters arrived, a person was trapped inside the SUV.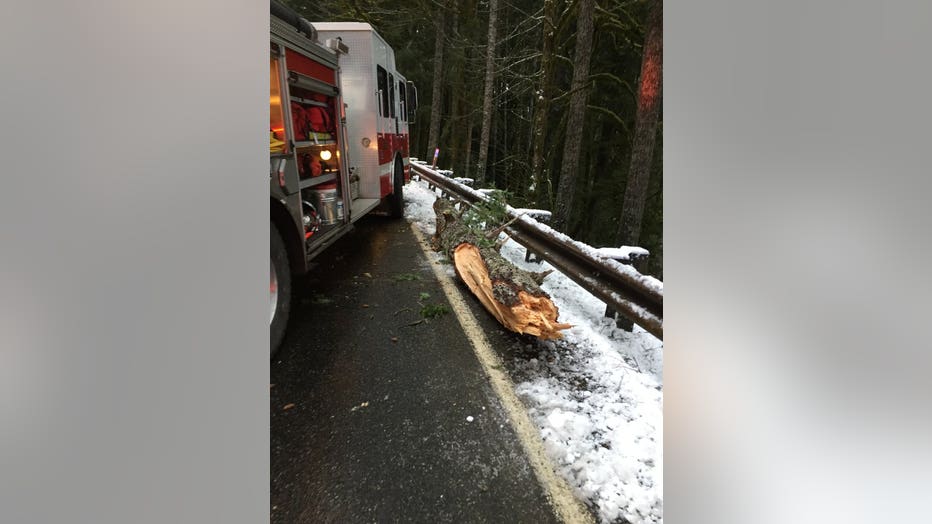 Tree strike vehicle in Olympic National Park killing 1 person and injuring 4. (Credit: Clallam 2 Fire-Rescue)


Officials say the two children and a grandparent were transported to Olympic Medical Center in Port Angeles. The Peninsula Daily News reports that they are in serious condition.

A grandparent, who was trapped, was airlifted to Harborview Medical Center in Seattle. They are in critical condition.

No word on the victim's ages.

Clallam 2 Fire officials said a number of Good Samaritans helped the victims before firefighters arrived.

Traffic between Forks and Port Angeles was re-routed via Hwy 112 while the Washington State Patrol assisted the U.S. Park Rangers with a major accident investigation. WA State DOT responded and set up detours along Hwy 112.