Cedar Grove waste management company goes full circle, gets into farming business
REDMOND, Wash.-- The pickup truck rattles along the gravel road between rows and rows of crops at Sound Sustainable Farms. From arugula to zucchini, there's about 80 types of crops on these 65 acres parked right on the edge of the Seattle suburb along NE 124th Street.

What makes this farm special is not the produce they grow, or that the fruits and veggies here are ending up in some of Seattle's finest dining spots. It's who owns this farm and what's fueling these plants that makes this King County farm a one-of-a-kind.

"For us, this project means a lot," says Karen Dawson, who works for both Sound Sustainable Farms and its parent company, Cedar Grove.

Yes, the same Cedar Grove that's responsible for dealing with your messy, gooey and sometimes stinky kitchen scraps that get chucked into your green curbside yard and compost bin -- it's now in the farming business too.

The company is bringing its waste business full circle.




"Cedar Grove decided that in order to show the benefits of compost in agriculture that there was really no better way to show that than to start a farm and start growing food with the organic waste we collect and turn into a usable product."

The farm along NE 124th street was a dormant farm field completely overgrown with 6-foot weeds just last summer. But, now posts are going in for the climbing vines of the summer green beans -- and already the first spring crops are being harvested and heading to area restaurants.

The restaurants weren't hard for Cedar Grove to find, because they are already their customers; Cedar Grove picks up their commercial kitchen scraps every week, too.

"For us, this really does bring it full circle," says Dawson. "Being able to have the crops define the menu, or the menu define the crops, is really more accessible when the farm is local."

Boxes of fresh produce from the Cedar Grove-owned farm only have to travel a handful of miles to get to the kitchens where they'll end up in restaurants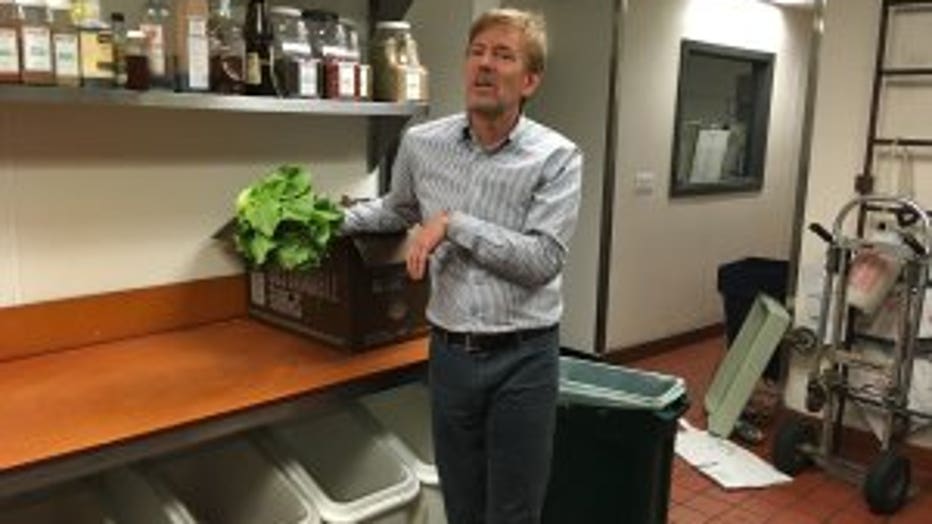 Owner and CEO, Joe Fugere shows off a box of fresh produce from Sound Sustainable Farms.


like Tutta Bella in Bellevue or El Gaucho in Seattle.

"It doesn't take much effort besides a commitment and separation of food scraps," says Joe Fugere, the owner and CEO of the five Tutta Bella locations around Seattle.

Fugere says last year each restaurant produced about 100 tons of food waste. But, none of it ended up in the landfill, where it could decompose to produce methane, a potent greenhouse gas. Instead, the restaurant has been composting that waste. It's being picked up by Cedar Grove, taken to their plants in either Everett or Maple Valley where the company "cooks" the scraps in gigantic batches to at least 131 degrees and begin the six-week process to making valuable compost.

"It really is a matter of a lot of people doing a little bit to make a big difference," says Fugere.

After the lettuce is chopped, washed and put in the cooler to make salads for customers, the odds and ends go into the tall green garbage cans. These cans will go back to Cedar Grove where the contents will be used as farm soil to start the process all over again.

It's a circle even you can get in on, since Cedar Grove has been selling their compost in bags and in bulk for decades.

"Whether they're doing it large scale or small scale —they can grow food for their table at the end of the day," says Dawson.  While Sound Sustainable Farms is just in its first year of production, they plan to build demonstration gardens at their Redmond farm site so people can be inspired to see how much produce you can grow in a small amount of space.