Caught on camera: Suspect steals package from front of home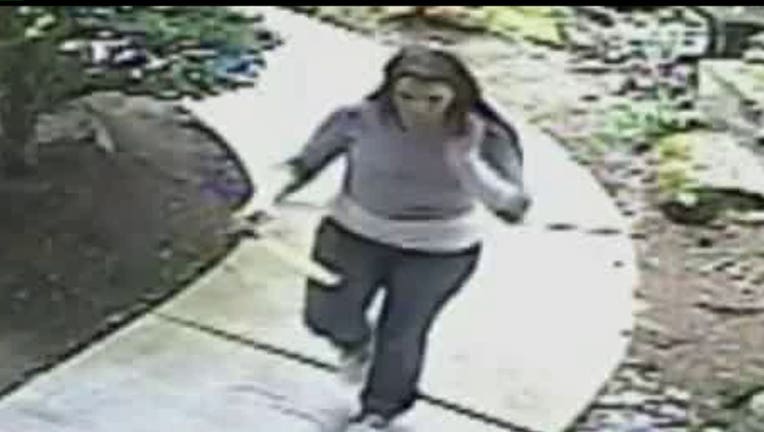 LAKE FOREST PARK, Wash. -- A Lake Forest Park woman is warning her neighbors there's a package thief on the prowl.

Her security cameras caught the suspect in action -- and you may be surprised when you see the getaway car.

"I saw her coming up the walkway and I thought, oh my gosh, what's she selling?" said homeowner Rhea Bez.

The suspect can be seen on camera leaving an envelope on the step Friday afternoon before picking up the package and leaving.

"And I saw her when she was leaving, running, and I thought now that's kind of suspicious," Bez said. "It didn't occur to me that she'd stolen our package."

But she did. There was nothing in the envelope that she left.

"And then we called the police," Bez said.



Police say the suspect can be seen pulling around the cul-de-sac in a black, high-end convertible, possibly a Mercedes-Benz.

A white woman who appears to be in her 20s walks up the driveway, envelope in hand. Heading down the sidewalk to the front door, she puts the envelope on the front step, picks up the package and dashes for the waiting car.

"Another friend of mine who lives across the street and is in the process of moving, she thinks she might have had something taken, too," Bez said.

Neighbors in the area said they've had packages go missing, too.

Bez said the box stolen from her doorstep had goods inside worth about $100. Money aside, she said she feels violated and angry.

"I really wanted to put something out like a decoy box that would just be horrible to open," Bez said.

She said she's been speaking out to warn her neighbors and others to be cautious.

"You have to keep your eye out for strange cars and people running and, you know, just things that don`t look right," Bez said.

If you think you know the suspect in this case, or anything about the crime, call Crime Stoppers at 1-800-222-tips.  Your call is guaranteed to be anonymous, and you could be in line for up to a $1,000 cash reward.