Carroll happy about being slotted in final wild-card game of weekend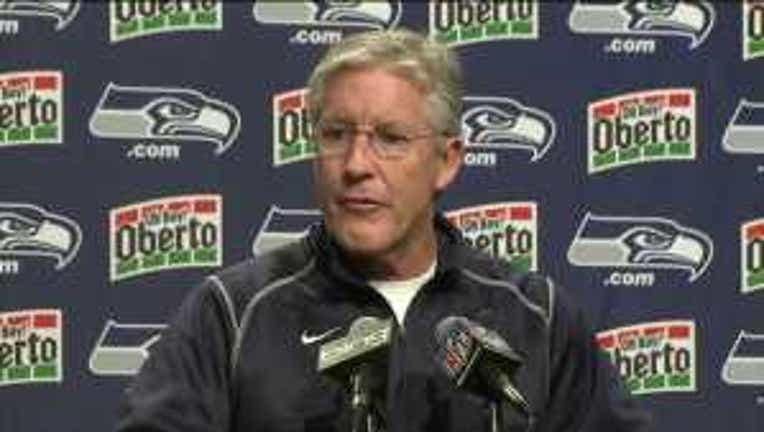 article
By Clare Farnsworth for Seahawks.com

(Q13 FOX Sports reporter Michelle Ludtka contributed)

RENTON -- Seahawks coach Pete Carroll said Monday the team was fortunate to be slotted as the last wild-card game of the weekend on Sunday afternoon against the Washington Redskins.

As a result, Carroll said, the team will be able to have a routine week of practices before flying to Washington, D.C., on Friday.

The players had Monday "off" and will be "off" on Tuesday, New Year's Day, although many players were in the facility Monday for a workout, treatment or to get a jump on their video preparation for Sunday's game.

"It's more fun, because of where you are and the focus and all that.," Carroll said of the preparations this week. "There will be a feel about the playoffs, there's always kind of that air about it. You can sense it. It's different.

"But the key is not allowing that to factor into what it really takes to prepare well, and not miss the message. They'll be excited to play and everybody's going to have great focus this week, just because it is the playoffs. But that's something we're trying to create on a regular basis, so when we get to this time we've already 'been-there/done-that.' "

The Seahawks advanced to the playoffs in 2010, their first season under Carroll, and knocked off the defending Super Bowl champion Saints in a wild-card game in Seattle. They then lost to the Bears in Chicago in the divisional round.

So this Seahawks team is looking to do something no Seahawks team has done since 1983: Win a playoff game on the road.

"It's about consistency when you get into this opportunity," Carroll said. "You've got to bring what you've got. Don't show up without your stuff on that day. We know how to do that. Now we have to see if we can bring it to life and not get distracted by the fact it's the playoffs."

BROWNER RETURNS

Cornerback Brandon Browner returned to the Seahawks Monday from his four-game suspension.

To clear a roster spot, cornerback Walter Thurmond was placed on injured reserve. Thurmond injured a hamstring in practice earlier this month and has missed the past three games.

"We couldn't get him over the hump on it," Carroll said. "He kind of re-tweaked it again last week, and that means it's going to be a couple of weeks again."

Browner, an alternate to the Pro Bowl last season who was added to the NFC squad as an injury replacement, started the first 12 games on the right side.

"He's worked out real hard. His weight's in good shape," Carroll said. "He's still fast and all that. He's going to have fresh legs. But we've got to see how he does. Unfortunately, we have guys that can play. If he's not quite right or he doesn't get off to a good start during the week, we've got other guys who can play for him."

TEAM RANKINGS FOR 2012

As a team, the Seahawks finished the 2012 regular season No. 3 in rushing offense, No. 4 in total defense, No. 6 in passing defense and No. 10 in rushing defense. The offense was No. 17 overall and No. 27 in passing offense. They also were plus-13 in turnover differential, which tied for fifth in the league.