Carnation family murder scene recreated in courtroom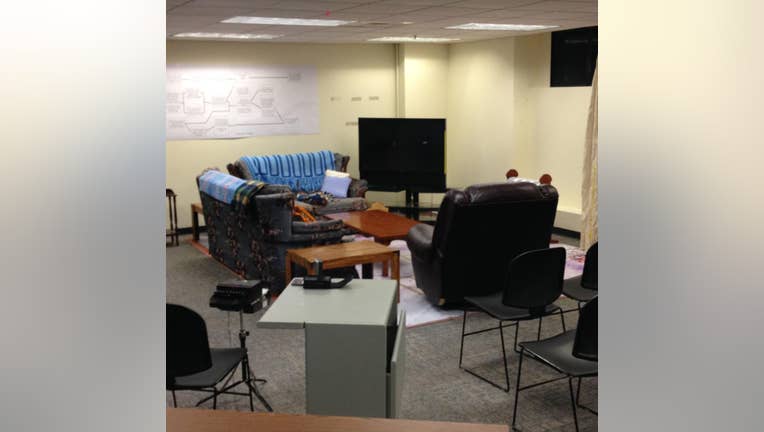 article
SEATTLE -- During the Carnation murder trial in King County, an unusual move -- prosecutors recreated the crime scene in a courtroom.

It's the recreation of a living room, down to the drapes, sofa, and chairs. The jury has seen pictures of the scene and video. But by recreating it, they actually get  chance to move around the room and get an even better idea of what happened there.

It's all part of the murder trial of Joe McEnroe. He's accused of killing six members of his girlfriend's family in Carnation on Christmas Eve 2007.

"This is relatively to scale of the actual scene," said Ross Gardner, a crime scene expert, as he talked to the jury in the makeshift living room.

It is a chilling recreation of a murder scene, with blood stains still on the drapes, taken from the Anderson home.

"The couch, the loveseat, all of these items were functionally in the scene," said Gardner. It includes the family TV set, which still has a bullet hole in it.




According to prosecutors, McEnroe and Anderson initially killed her parents, Wayne and Judy, and hid the bodies. They then waited for her brother Scott, sister-in-law Erica, and their two children, 3-year-old Nathan, and 5-year-old Olivia, who all came to the home expecting a family holiday dinner.

"The scene suggests they were in a relaxed mode," said Gardner. "They were not alarmed, there's nothing to suggest they were alarmed."

Jurors were allowed to walk around the recreated living room, to see what it was like in the crime scene.

Gardner told them the scene suggests McEnroe and Anderson shot her brother, and sister-in-law in a matter of seconds, and then turned the guns on the two small kids.

In a recorded confession to police, McEnroe said the children were killed to eliminate witnesses.

McEnroe's attorneys say he took part in the shootings due to the influence of Anderson and her anger at her family.

The prosecution is wrapping up its portion of the case, but not before one more key piece of evidence. On Monday, they will let the jury hear the audio confession of Michelle Anderson.

Her trial will be held separately at a later date.