CAPTURED: WMW viewer tip leads Gig Harbor Police to admitted cooler crooks
CAPTURE UPDATE --
Gig Harbor Police say a Washington's Most Wanted viewer tip helped them identify and arrest Matthew Ellingsworth, pictured above,  for stealing a pair of expensive Yeti coolers from Ace Hardware -- and his admitted partner-in-crime, pictured below on the right.

"The anonymous tip we received was a viewer of Washington's Most Wanted, so they called us, we were able to corroborate that information, go out and contact the suspect," said Gig Harbor Police Chief Kelly Busey. "He fully admitted it and then gave us some information on his accomplice, his getaway driver. The good news there is when we contacted him he also knew that his picture had been on Washington's Most Wanted. We did arrest him on some other charges, interviewed him about the cooler thefts, he admitted his full part and so we issued him a citation for assisting the theft."

Chief Busey said the case is a perfect example of the entire community working together to help fight crime and solve the case. "We actually had two very alert citizens. We had one during the initial theft who recognized what was going on and followed them out to try and get a vehicle description. There was no license plates on that getaway vehicle, but they gave us a great description. Just prior to the theft a very alert citizen saw some people removing license plates on the suspect vehicle and thought it was peculiar enough that they shot some video and forwarded it to us, as well."

Detectives say Ellingsworth has criminal history and admitted he'd been thieving to support a heroin addiction.

 




FUGITIVES WANTED IN GIG HARBOR November 10, 2017 --
Gig Harbor Police say an alert shopper may help solve a number of theft cases in Pierce and King County if you can identify either of the suspects.

On October 28th, officers got a call for a shoplift of a $330 Yeti cooler from Ace Hardware in Gig Harbor. A still photo of the theft suspect was obtained from the Ace video surveillance showing a man with a beard wearing a baseball cap. He appeared to be 25 to 30 years old.

"The unusual thing was that a witness saw him getting into a vehicle in the parking lot and noticed that there weren't any license plates on the vehicle, so he gave us a description, but we weren't able to get any information to track the vehicle," said Gig Harbor Police Lt. Fred Douglas. "The next day, I was contacted by a citizen who sent me a short video clip and some still photos of something suspicious he had seen at a gas station and it turns out it's about 10 minutes prior to the Ace Hardware theft. He saw these two guys taking off a license plate from a Scion hatchback vehicle in the parking lot and thought it seemed suspicious, so he shot a quick video and took some still photos and sent those to me. It turned out those were our suspects in the Ace Hardware theft, so we're still trying to identify those two individuals, especially the gentleman that was in Ace Hardware that stole the cooler."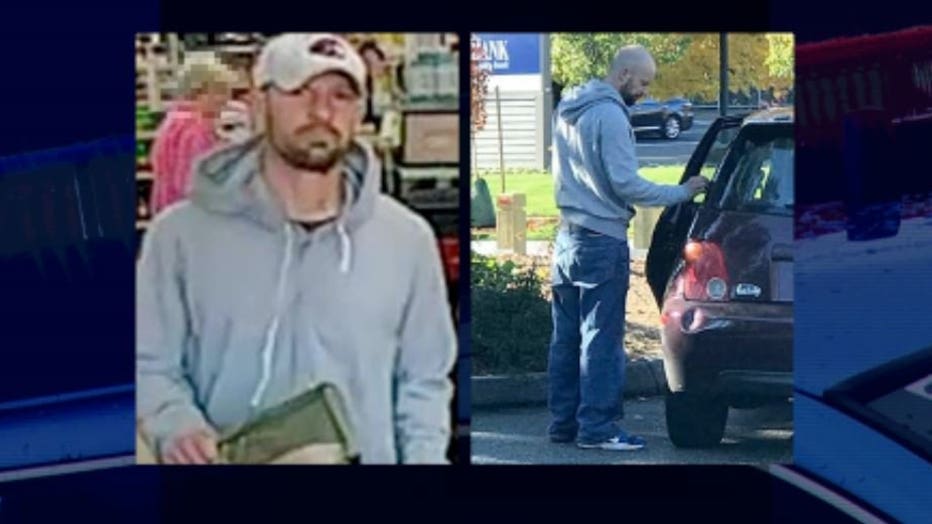 The two men were scraping off the stickers on the car windows including a Seahawks sticker on the back.

The second suspect was wearing a knit beanie cap, red beard and had numerous tattoos on his hands and neck. He matched the description of the driver in the Ace Hardware theft.

Police believe the 4-door, maroon Scion hatchback wagon was stolen but they have not recovered it.

Officers later received information that the same suspects may work as part-time landscapers and may be associated with an older tan/brown Ford F150 with a blue tailgate.

If you can identify either of the suspects, call Crime Stoppers of Tacoma/Pierce County at 1-800-222-TIPS(8477), or use the P3 Tips App to submit your information.

There is a cash reward of up to $1,000 for information that leads to an arrest in the case and you will remain anonymous.

CLICK HERE for step-by-step instructions on how to submit an anonymous tip to the P3 Tips App.