CAPTURED: U.S. Marshals arrest Top Ten Most Wanted fugitive accused of shooting man multiple times in Renton


CAPTURED December 18, 2018 --
The U.S. Marshals led Pacific Northwest Violent Offender Task Force arrested Steven Shannon, Jr. this morning in Seattle.

The 29-year-old had been wanted since February after Renton Police say he shot a man multiple times outside William's Pub. The victim survived.

Prosecutors charged Shannon  with Assault 1st Degree.  In June, he was named to the U.S. Marshals led Pacific Northwest Violent Offender Task Force Top Ten Most Wanted list.

Shannon will be booked into the King County Jail on $250,000 bail.

FUGITIVE UPDATE June 8, 2018 --
Renton shooting suspect, Steven Shannon, has a $250,000 warrant for his arrest and now has the U.S. Marshals led Pacific Northwest Violent Offender Task Force asking for the public's help to find him.

Shannon should be considered 'armed and dangerous' and detectives say he cut his dreads and has short hair now, so the photo on the right is how he may now appear.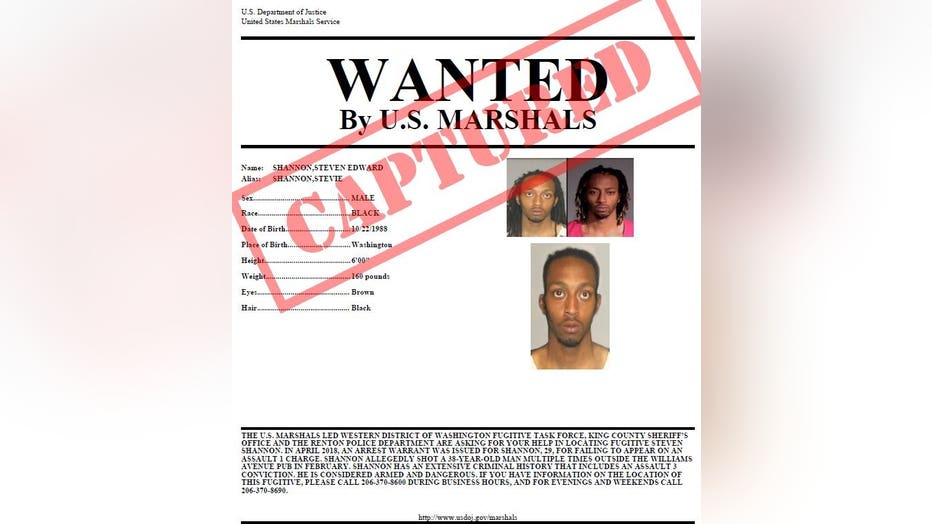 He's 6 feet tall and weighs 160 pounds.

Crime Stoppers of Puget Sound is offering a cash reward of up to $1,000 for tips to help find Shannon. If you know where he is, use the P3 Tips App on your phone or call 1-800-222-TIPS (8477). You can also submit the info at www.P3Tips.com.




FUGITIVE WANTED IN RENTON February 7, 2018 -- 
Renton Police are asking for the public's help to find the suspect accused of shooting a 38-year-old man multiple times outside the William's Avenue Pub at about 1:15 a.m. Sunday.

Detectives are searching for 29-year-old Steven Edward Shannon Jr.

Detectives say the preliminary investigation revealed the victim and lone suspect were arguing just before the shooting.

"We don't know what tipped this man off, got him angry but apparently it was a minor argument," said Renton Police Commander Dave Leibman.

Surveillance video shows Shannon following the victim out of the pub and then around the corner just south of the bar. Officers responded to calls of shots fired and found the victim in the parking lot.

Medics took the victim to Harborview Medical Center where he remains in critical condition. Detectives say the video helped them identify Shannon as the suspect.

"He has done violent assaults before. He has a fairly extensive criminal history. In this case, he shot a man in cold blood on the street and left him to die. This is a person who is very likely to do something similar again," Leibman said.