CAPTURED: Teens wanted in Idaho murder of Pullman man, Moscow carjacking -- arrested in Washington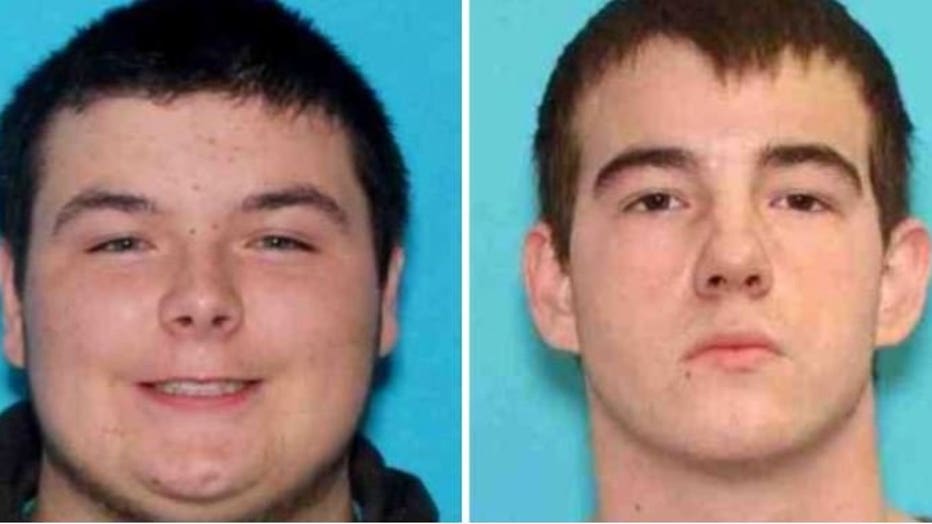 FUGITIVES CAPTURED July 21, 2017 --
Teen murder suspects, Keagan Tennant and Matthew McKetta, were arrested and booked into the Ferry County Jail on Friday.
 

The sheriff's office says the both suspects are be being held in consideration for local charges and extradition to Idaho.

 --------------------------------------------------------------------------------

FUGITIVES WANTED IN LATAH COUNTY, IDAHO July 21, 2017 --
The Latah County Sheriff's Office is asking for the public's help to find two homicide suspects.  Detectives are searching for Keagan Tennant pictured on the left and Matthew McKetta who are believed to be armed and dangerous. They may be driving a white 2002 Pontiac Grand Am with Idaho plate IBX8758 taken during a carjacking in Moscow last night.

Investigators from the Pullman Police Department are assisting the Latah County Sheriff's Office and the Moscow Police Department in locating the two men police say are responsible for the recent shooting death of an 18-year-old Pullman man a wooded area near Troy, Idaho.


Police say Tennant is the adopted son of Pullman PD Commander Chris Tennant. The department posted a statement on their Facebook page saying "Commander Tennant has not been in regular contact with Keagan but is actively assisting investigators attempting to locate Keagan so he can be taken into custody. Commander Tennant wishes to pass along his heartfelt condolences to the shooting victim's family."

If you know where either of the suspects are hiding, call 911 or the Latah County Sheriff's Office at 208-882-2216.