CAPTURED: Suspect in 13 armed robberies arrested at motel in Lacey; held on $1,000,000 bail


































 

TACOMA -- The suspect believed responsible for at least 13 armed robberies at small businesses since late February is in custody.  "With the help of the Seattle Police Detectives, we were able to get him into custody in Lacey last night and book him into jail," said Pierce County Sheriff's Det. Ed Troyer.

23-year-old Darryl Deandre Bush was located at a Days Inn motel in Lacey near the scene of two of the robberies this month.    Bush appeared in Pierce County court today and is being held on $1,000,000 bail.

Pierce County prosecutors have charged him with Assault in the First Degree, 3 counts of Robbery 1st Degree and two counts of Unlawful Possession of a Firearm in the First Degree.  He could still face charges in Thurston and King County.

Bush is suspected of committing 13 armed robberies including two in Lacey, two in DuPont and one in Seattle.   Detectives say he also robbed a massage business in Parkland on March 9 in which an employee was shot in the arm, an espresso stand near Lake Tapps on March 13 and a coffee shop in Parkland that same day.

The break in the case came thanks to the hard work of a Pierce County Sheriff's detective and a Seattle Police robbery detective.  They were reviewing surveillance video when the Pierce County Sheriff''s noticed the suspect's distinctive bow-legged gait.  He remembered arresting a man in May of 2019 for an armed robbery that matched the appearance of the serial robbery suspect.

Detectives worked the case non-stop since Friday and gathered evidence that they say directly linked Bush to the series of armed robberies.  When they searched his motel room , they recovered a  a gray sweatshirt that appears similar to the one worn during the robberies and a stolen Glock handgun that matches the description of the gun used by the suspect.

Bush has five prior felony convictions including Assault in the Second Degree.  Ironically, his last day of Department of Corrections supervision for a previous conviction was the same day he was arrested.




 

 

LACEY, Wash. -- The hunt is on in Seattle, Dupont, Auburn, Tacoma, Lacey and Olympia to find a serial armed robber who's committed at least 13 different heists since last month.

He's short,  always holds the pistol in his left hand and wears an 'ENYCE' brand sweatshirt. He appears to be in his early 20s.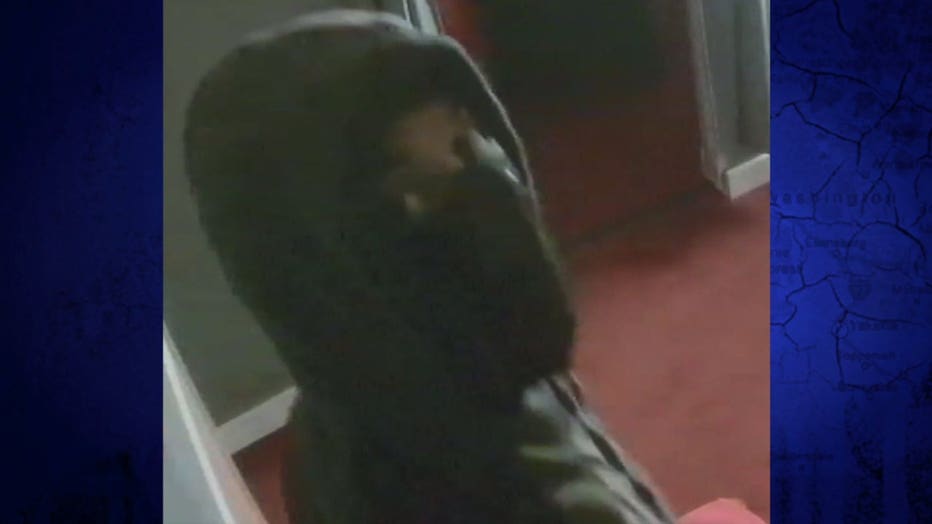 The suspect appears to be bow-legged.

"He has a very odd stance. When he's standing there. He's legs are very separated. He's very short in stature, about 5'5 to 5'8, somewhere in there, very slender build and possibly athletic too. He's able to jump these counters like it's nothing." said Lacey Police Detective Jon Mason.

In one of his robberies that happened on March 3, video shows him walk into Heavenly Donuts in Lacey and quickly jump the counter. There was one employee in the front and another in the back. He ordered her to come out at gunpoint, scooted back over the counter, pulled out a white bag and demanded cash.

"We should be very concerned about him. He's armed and dangerous as you can see from the videos. He's going in, waving that gun at people. We don't want him to injure anybody," said Det. Mason.

Three days later, surveillance video at the Luxe Spa in Lacey shows the same suspect pointing that gun at a woman's face during another takeover robbery, just two of the numerous crimes he's wanted for, including in Seattle where he robbed a woman at gunpoint in a parking garage at a long-term care facility.

There is a cash reward of up to $1,000 for any information that can help identify or locate the suspect.

You can submit tips to Crime Stoppers at http://www.P3Tips.com or through the P3 Tips App that you can download to your cell phone for free.  You can also call 1-800-222-TIPS (8477).