CAPTURED: Suspect accused of breaking into cars in downtown Seattle parking garages


 

CAPTURED:  June 15, 2016 --

Kristian Hill was booked into the King County jail at 3:29 a.m. He was arrested for narcotics and is also being held for a theft charge out of Kent.  He is accused of breaking into vehicles at downtown Seattle parking garages and then using the stolen credit cards at stores on Capitol Hill.  Seattle detectives are preparing to interview Hill today and say more charges will be pending along with charges for the two other suspects identified by Crime Stoppers from surveillance video showing them using the victim's stolen checks. Hill is WMW Capture #781.

UPDATE June 10, 2016 --

Seattle Police now know the names of these three suspects connected to a car prowl at a downtown Seattle hotel.

This is a case we've been working on for several weeks and your help is really starting to pay off!

Surveillance video showed a couple at a grocery store on Capitol Hill using the victim's checks after the window on her SUV was smashed out and her purse stolen.

Detectives say your Crime Stoppers tips identified them: She has been arrested and he was already in jail for a bank robbery.

Police are still trying to find the 3rd suspect, Kristian Hill, who was seen using the victim's credit cards.

He has a warrant for his arrest and his criminal history includes convictions for drugs and property crimes. "This guy's dangerous. We want him into custody for lots of reasons. We think there's other cases involved so if you think you know anything about Kristian Hill, please call the hotline right away," says Ret. Det. Myrle Carner with Crime Stoppers of Puget Sound.

If you know where he's hiding, call an anonymous tip into:

CRIME STOPPERS: 1-800-222-TIPS

You must call the Crime Stoppers hotline with your tip to be eligible to receive a cash reward for information leading to a fugitive's arrest.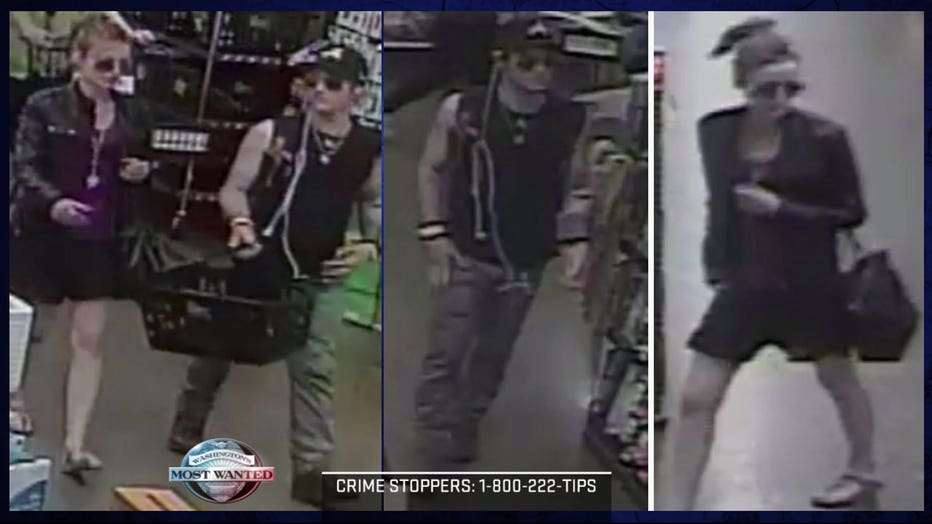 CASE UPDATE June 2, 2016 --  
Seattle Police say your tips to Crime Stoppers of Puget Sound have identified the suspect accused of breaking into cars in downtown parking garages. Detectives say his name is Kristian G. Hill and they are asking for the public's help in locating him.

The 27-year-old's criminal history includes convictions for drugs and property crimes. He has a Department of Corrections warrant for his arrest for escape from community custody after a conviction for dangerous drugs.

Detectives say that on April 20th, he smashed the window on a woman's SUV when she left it with the valet at the Hyatt Grand Hotel in downtown Seattle.  The victim says she had a purse in the back seat that was taken. He was seen on surveillance video using her credit cards at the QFC at 417 Broadway Avenue East in Seattle. Detectives say the same suspect attempted to prowl a car at the Standard Parking Garage at 1508 7th Avenue on April 18th which resulted in damage to the vehicle. 

He is known to hang out around the Broadway area of Capitol Hill and the Westlake Park area of Seattle. He wears dog tags and has tattoos on both shoulders. He was carrying a lime green backpack. He is white, 18 to 25 years old. Crime Stoppers is offering a cash reward of up to $1,000 for information leading to his arrest. If you know where he is, call the hot line anonymously at 1-800-222-TIPS (8477).

FUGITIVES WANTED IN SEATTLE May 22, 2016 --
Car prowls in Seattle are on the rise, and victims are learning the hard way it can happen anywhere, even when you valet your vehicle or park in a secure garage. One recent victim said it had her thinking twice about visiting downtown Seattle again.

Downtown Seattle is one of the areas where police are seeing a growing number of car prowls. In a recent case, a thief is caught on video and police hope by catching him, downtown will be a safer place to live, work and visit.

"I was so upset, and I immediately remembered that I had a big huge purse of mine in the back of the car," said Jenn, who didn't want to share her full name.

Jenn said a car prowler broke into her SUV last month, after she valet parked it at a downtown hotel.

"They pulled up, and I noticed immediately that the back window behind my driver's side was bashed in," said Jenn.




Seattle Police say a man is seen on surveillance video at the Broadway Avenue QFC used Jenn's stolen credit cards. It's the same man they say attempted to break-into another car in the Standard Parking Garage on 7th Avenue.

In addition to Jenn's purse and wallet, the thief also got her passport. She's scared someone is now holding her personal information.

"It just feels like somebody just violated me and it's a really creepy feeling," said Jenn.

With car prowls on the rise, Jenn hopes these crimes are taken more seriously than they have in the past.

"It's not just a one-time they broke into your car and you have a broken window and you have some personal things stolen, they're using your credit information, your ID," she said.

Jenn tells me in this case, she hid her bag out of sight, but it wasn't enough.

If you recognize the suspect, call Crime Stoppers at 1-800-222-TIPS. You could earn a cash reward of up to $1,000 for information leading to his arrest.