CAPTURED: Sex offender wanted in Kent home break-in apprehended by 'K9 Molly' in Oregon following high-speed pursuit


 

UNION, OR -  Lucas Kapeli was arrested early this morning in LaGrande, OR.

Here is the news release from the Union County Sheriff's Office:

"At 1:00 AM this morning, Thursday 19 December, a City of Union resident called 911 to report that an unknown person had just stolen his 2006 Chevrolet Suburban from his driveway. The vehicle had been unlocked and had the keys in the ignition.

Information regarding the theft was broadcast to police units, and a deputy responded to Union to take the report. A short time later a LaGrande PD officer located the occupied vehicle in LaGrande near Walton and Mulholland. A traffic stop was initiated, and the male and female occupants both provided identification. The male's identification later proved to be false.

When the officer ordered the driver to turn off the ignition, he instead put the vehicle in drive and accelerated away, dragging the officer for a short distance. City and State Police units pursued the fleeing vehicle, but the driver's extremely reckless driving and speeds in excess of 100 mph caused the pursuit to be terminated.

Shortly after, a deputy located the vehicle southbound on McAlister, and again attempted to stop it. The vehicle accelerated away, turning eastbound onto Highway 203. The vehicle continued to attempt to elude, turning onto Curtis Road. Another deputy was able to set spike strips in place, but the suspect saw them and reversed direction. The speed and reckless nature of the reversal caused the vehicle to overturn and come to a stop.

The female passenger remained in the vehicle but the driver ran away on foot. At this time Deputy Dane Jensen released his K9 partner, Molly, who quickly apprehended the suspect.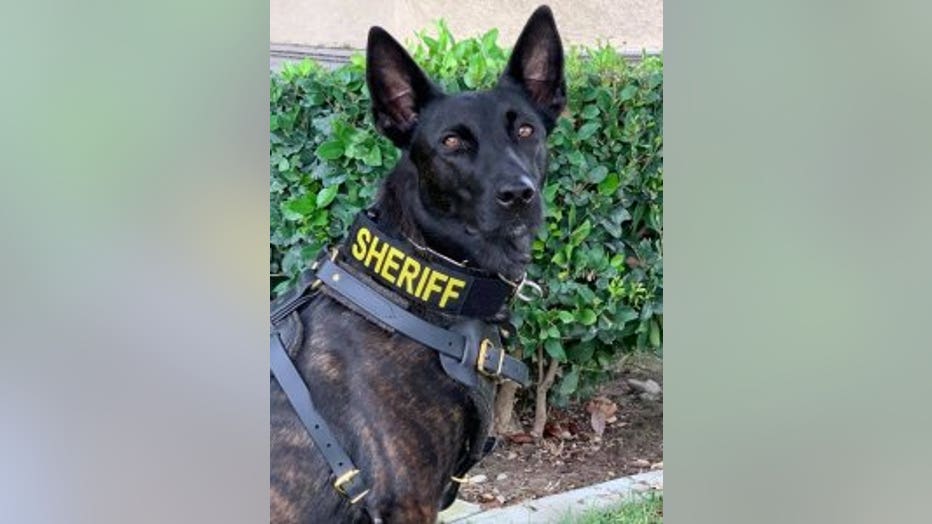 K-9 Molly credited with capture of Washington's Most Wanted fugitive Lucas Kapeli in LaGrande, OR


Both individuals were transported to Grand Ronde Hospital, where they were examined and released. The LaGrande officer suffered minor injuries but was not hospitalized.

Arrested was Lucas Pakapea KAPELI, DOB 11-07-88, a transient from the state of Washington, on King County warrants charging Robbery I, Kidnapping I, Assault Ill, Unlawful Possession of a Firearm, and Attempt to Elude. Based on his alleged actions he has also been charged locally with Unlawful Use of a Motor Vehicle, Attempt to Elude (Vehicle), Attempt to Elude (on foot), Reckless Driving, Recklessly Endangering, Criminal Mischief Ill, False Information to a Police Officer, and Using Another's License.
Total bail has not yet been established. He is scheduled to be arraigned today in Union County Circuit Court.

The female has been detained, but it is not certain at this time if she will be charged.

KENT, Wash. - The hunt is on for a dangerous sex offender who is wanted for a home break-in that terrified a 13-year-old girl.

Kent Police are asking for the public's help to find 31-year-old Lucas Kapeli.

Detectives say the Level II sex offender forced his way into the teen's home on November 2 and demanded money from her before leading her upstairs. Fortunately, she was able to call 911.

"Kent Patrol responds, arrives, goes into the home, doors are locked, things are weird, something's not quite right. Finally, the little girl starts pointing to the room next door. They go back in. This is a room they already checked and then the fight is on.  Kapeli jumps out of the closet, fights the officers, has a gun on him and everything. He's able to flee the house and takes off on foot," said Kent PD Det. Melanie Robinson.

Kapeli has five prior felony convictions including first-degree robbery.  Police say he is wanted for Robbery 1st Degree, Assault 3rd Degree on a Law Enforcement Officer, Attempting to Elude Law Enforcement, Illegal Possession of a Firearm and Failure to Register as a Sex Offender.

"This is an individual who took a young boy, locked him in the bathroom with him and had him perform oral sex on him. If that doesn't want you to help get this guy, I don't know what else will," said Det. Robinson.

Police say Kapeli drove recklessly and eluded officers on Pacific Highway South on November 26th during rush hour while driving in a vehicle which was occupied by a child.  Police called off the pursuit for safety reasons but say it shows he will stop at nothing to avoid capture.

Kapeli is motel hopping in South King County as well as in Fife, Tacoma and Everett. If you spot him, call 911. If you can tell Kent Police where to find him or have any other information about him, submit an anonymous tip to Crime Stoppers of Puget Sound for a cash reward of up to $1,000.

Go to www.P3Tips.com or use the P3 Tips App that you can download to your cell phone for free. You can also call 1-800-222-TIPS (8477).