CAPTURED: Justin Udui: Felon shoots himself in foot, tries to cauterize wound with hot nail


KING COUNTY -- Justin Udui was booked into the King County jail on Friday, August 3rd on a Forgery case and for Unlawful Possession of a Firearm 2nd degree.

SEATAC, Wash. -- King County Sheriff's detectives in the Fugitive Unit are asking for the public's help to find 29-year-old Justin Udui.

The seven-time convicted felon is wanted for Unlawful Possession of a Firearm 2nd Degree and Criminal Trespass 1st Degree. A warrant was issued for his arrest after he failed to show up to court.

Deputies say on March 15, 2018, they responded to a 911 call from the Motel 6 in SeaTac where a guest complained a bullet had been fired through the roof of their room. Officers checked the hotel room above them and found a bullet hole in the floor. A woman there told officers she and her boyfriend had rented it so she could take photos for her prostitution business. They had been arguing all day until it escalated into a physical altercation with her boyfriend holding a .410 shotgun with a sawed-off barrel with black tape over the handle.


The woman told officers an unknown man later identified as Udui took the shotgun away from her boyfriend. According to the probable cause documents, when Udui attempted to put the shotgun in his pants, it went off and shot him in the foot.

"As he was trying to put the shotgun in his pants for some reason, the trigger went off and he shot himself in the foot," said King County Sheriff's Sgt. Ryan Abbott.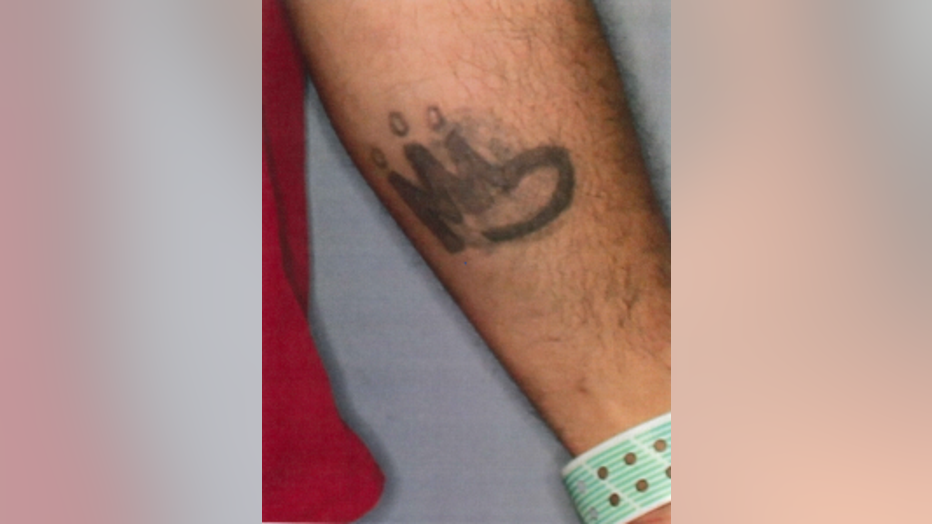 Tattoo on Justin Udui's arm.


Three weeks later, a DOC officer located and arrested him Udui was taken to Highline hospital for a serious infection in his foot. Officers heard him tell the nurse that he had tried to cauterize the wound with a hot nail and it had been getting worse.

At the hospital, Udui told the officer, "When I leaned against the wall, it went off. It had a hair trigger or something. It was all rickety or something. That's when it went off and I was like, 'Oh F*** you know.'"

Detectives say Udui is transient and may be staying in local hotels. He is 5'06", 218 pounds with black hair and brown eyes.

"Our biggest concern about him is that he is a threat to the public," Abbott said. "When detectives did a search of the room where he was at, they found magazines for an AK-47, so that's a high-powered rifle, so if he has a high-powered rifle, a shotgun as well, we don't know what he's doing with this stuff.

"He obviously has no weapons skills. He shot himself in the ... foot so that's scary to us and that's scary to the public and we need to get him in jail to keep people safe out here," Abbott said.

Crime Stoppers of Puget Sound is offering a cash reward of up to $1,000. If you spot him, call 911 and then submit a tip to Crime Stoppers for the reward. If you know where he is staying, please download the P3 Tips App to your cell phone for free and submit the information anonymously. You can also go to www.P3Tips.com or call 1-800-222-TIPS.