CAPTURED: Joint law enforcement effort leads to arrest of serial bank robbery suspect


UPDATE 1/3/2107 -- The FBI Safe Streets Task Force, US Marshals, Federal Way Police and Seattle Police Swat team arrested a serial bank robbery suspect Friday night. Gary J. Todd III is accused of robbing five banks in Kent, Kirkland, Federal Way and Puyallup during the month of December. He is being held on $350,000 bail.  Todd has been charged with three counts of Robbery in the First Degree. He has two recent convictions for Assault in the 3rd Degree as well as Attempts to Elude a Police Vehicle, Possession of a Stolen Vehicle and Violation of the Uniformed Controlled Substance Act.  Todd has also has pending criminal cases in Spokane County and has been on escape status with the Department of Corrections since March of 2016.

Todd is WMW Capture #847. He is scheduled to appear in King County Court at 8:30am on Jan. 12th.

WANTED IN PIERCE COUNTY and KING COUNTY --
How about $1,000 cash for Christmas?

Identify this bank robber for Pierce County detectives and Kent Police via the P3 Tips App on your phone for Crime Stoppers of Puget Sound.

He's accused of robbing three different USA Federal Credit Unions:


In the Kent case -- his first suspected heist -- he targeted the Alaska USA Federal Credit Union in the Fred Meyer Grocery store on SE 240th St. Kent dectectives say the bank teller reported that the suspect approached the teller window, presented a note which inferred a threat and fled on foot with an undisclosed amount of cash.

Officers fanned out in the area in search of the suspect but were unsuccessful in locating him. He was caught on the credit union video surveillance and is described as a white male adult, 23-28 years of age, with facial hair. He is 5 feet 9 inches tall, and described as having a medium build. He was wearing a stocking cap and a grey hooded sweatshirt with a grey "Nike" symbol on the front.

In the Puyallup hit, the photo below shows the gray hoodie he wore with the Nike symbol and "Beast" in large letters across the front.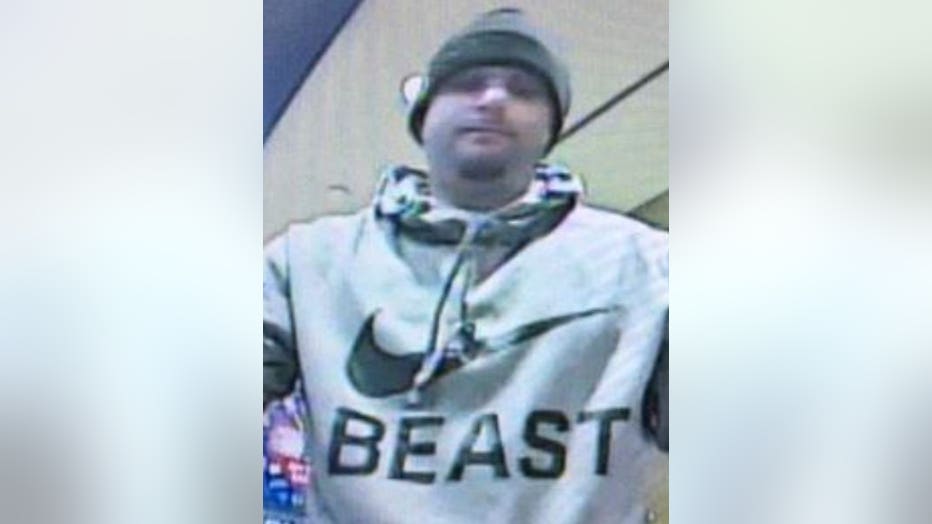 If you know his name, submit the information via the P3 Tips App or call Crime Stoppers at 1-800-222-TIPS.