CAPTURED: Criminal couple arrested after work van stolen along with tools, company gas card inside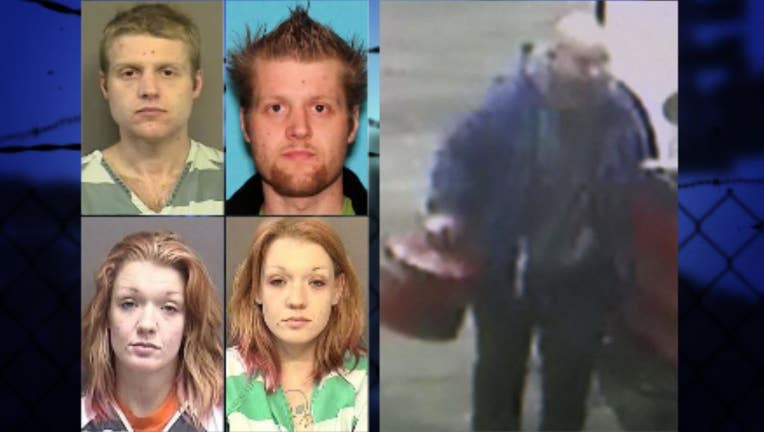 CAPTURE UPDATES March 17, 2017 --
After being held on an extradition hold in California, Skylar Spery -- the male pictured above -- was released on Wednesday and booked into the Snohomish County Jail on Friday, where he's being held on $18,000 bail.

Sarah Hunt -- the female pictured above -- was arrested in California and booked into the Sacramento County Jail on January 3rd.




FUGITIVES WANTED IN SNOHOMISH COUNTY February 26, 2016 --
A work van was stolen from a business in Lake Stevens, along with thousands of dollars' worth of tools -- but the crimes didn't stop there.

And now, The North Snohomish County Property Crimes Unit is asking for help finding two suspects and identifying a third.

Take a look at surveillance video from one of the gas stations where detectives say Skylar Spery used a stolen credit card, in one instance, to fill up his girlfriend's car. Detectives say you can see Sarah Hunt, on the video, too and now both convicted felons are wanted.

Spery is accused of stealing a Bosch Electric, Inc. work van and a gas card from the company. Detective John Elton says surveillance video shows him in the parking lot breaking into the van. "He was using jiggle keys, they`re like shaved keys and it looks like he used multiple of them to try and get into it and he finally was successful and took the van."

Owner Joe Bosch was able it to track it down using a GPS locator. "Sure enough the van was left abandoned" said Bosch. "Steering column destroyed, entry locks destroyed, dash torn apart, employees tools stolen, company tools stolen and thousands of dollars` worth of equipment, wire and stuff like that out of the vehicle."

Bosch gave police a copy of the gas receipts from the stolen card which helped Det. Elton identify Spery, who says, "He`s out of control right now. He`s actually committing a lot of crimes in the north Snohomish County area and we really want him caught.

And he needs help identifying a third suspect on video at the gas station. "It looks like Skylar`s been going around and soliciting people with this gas card to trade for whatever items he can get," says Det. Elton. "So, he racked up almost a $1,000 in gas charges at different AM/PM locations."

Even though he got his van back, Bosch is still waiting on it to get repaired and he's out thousands of dollars in tools. "There`s a lot of things I`d like to tell him," says Bosch. "But, you know, he didn`t just impact me, he impacted everybody that works for me."

You can see Sarah Hunt has a tattoo on her chest that looks like an alien face.

If you know where she or Skylar Spery are hiding out, or know the name of that third suspect in the blue jacket who detectives need identified, call an anonymous tip into:
CRIME STOPPERS: 1-800-222-TIPS

You must call the Crime Stoppers hotline with your tip to be eligible to receive a cash reward for information leading to a fugitive's arrest.