CAPTURED: Couple wanted for attempted armed carjackings in Lacey arrested in King County


KING COUNTY -- Christopher R. Steinmeyer and Sonya McKay are both in jail in King County.   The U.S. Marshals led Western District of Washington Fugitive Task Force and Department of Corrections Officers in the Southwest Community Response Unit located them at the Hawthorne Suites motel in Kent on Saturday.

Records show Steinmeyer was booked into the Regional Justice Center at 2:34 pm.  McKay was booked into the King County jail at 7:29.  Both are being held without bail for Robbery with a Firearm.

Steinmeyer also has charges for Failure to Appear for Possession of a Stolen Vehicle and Theft 3rd Degree.  They are expected to be transferred to Thurston Count for their first appearance in court.

ORIGINAL STORY:

LACEY, Wash. -- Police are asking for the public's help to locate two suspects wanted for questioning in connection with the armed robberies and carjackings that terrified a Lacey community Thursday.

Police are searching for Christopher R. Steinmeyer and Sonya McKay.

Steinmeyer is 34 years old, 6'2" and 175 pounds with brown, balding hair. He has neck and hand tattoos. Steinmeyer has outstanding warrants for his arrest out of King County.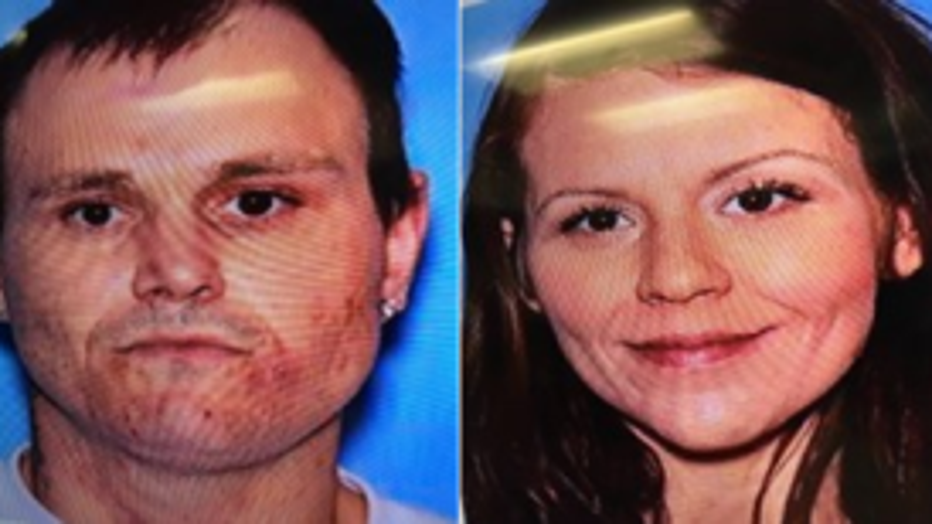 From Lacey Police Department.


McKay is a former Washington's Most Wanted fugitive. She is 33 years old, 5'2" tall and 127 pounds. She has brown hair and hazel eyes.

McKay was previously wanted for rendering criminal assistance, using heroin and driving with a suspended license. Her mother was also wanted in 2016 for stealing credit cards during a car prowl at a Renton day care.

Two people were contacted during a welfare check in a McDonald's parking lot Thursday. Police said the people seemed to be under the influence of something, and they ended up speeding away northbound on Sleater Kinney before the officers could take action.

The man and woman crashed as they attempted to get on I-5 going the wrong way, and ran away from the wreckage.

Just before 3 p.m., the two attempted an armed carjacking at the Candlewood Suites near 3rd Ave. S.E. and College St. S.E. The victim fought off one of the suspects, and the other suspect fired the handgun. Nobody was hurt, and the pair ran away.

A few minutes later, they tried again outside a nearby medical building but again failed.

Police brought in a K9 unit and tracked them to an area near Martin Way E., but the trail was lost and police cleared the perimeter around 5:30 pm.

Call 911 if you spot them or submit an anonymous tip to Crime Stoppers of the South Sound at www.P3Tips.com or by calling 1-800-222-TIPS (8477).