CAPTURED: Accused armed jewelry store thief arrested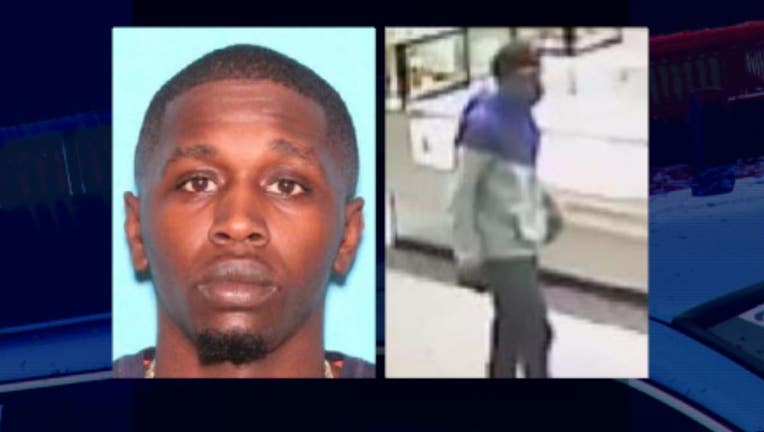 CAPTURE UPDATE December 21, 2017 --
Javari Gaddy, the suspect in a 2015 jewelry store heist, was arrested and booked into the King County Jail on Wednesday night.

FUGITIVES UPDATE August 14, 2015 --
Seattle Police say one of the suspects, Javari Gaddy, has been identified through.

Detectives say he's the one seen on surveillance camera wearing the gray and purple jacket, who bolted out of Shubad Jewelers with a $16,000 necklace.

Detectives say they were able to get DNA from his hat he lost and left at the scene.

"Now that we know who he is, he's going to be dangerous," says Ret. Det. Myrle Carner with Crime Stoppers of Puget Sound. "Remember, he is armed, that's a scary thought in itself, so if you know where he's at now's the time to give Crime Stoppers a call."

The second suspect wearing the old-style Seahawks hat, blue hoodie and dark jacket is still unidentified.




If you can tell Seattle Police his name or know where Javari Gaddy is hiding, call an anonymous tip into:
CRIME STOPPERS: 1-800-222-TIPS

You must call the Crime Stoppers hotline with your tip to be eligible to receive a cash reward for information leading to a fugitive's arrest.

CLICK HERE for information on how to TEXT A TIP to Crime Stoppers.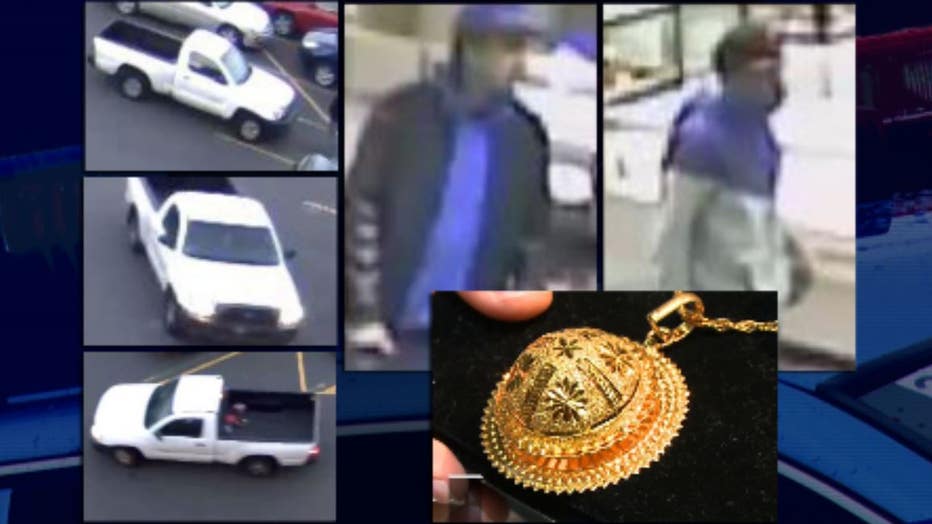 FUGITIVES WANTED IN SEATTLE May 14, 2015 -- 
Detectives need your help to solve a high-end heist at a local jewelry store.

Olga Afichuk said the two captured on surveillance video took their time acting like customers, spending nearly an hour inside Shubad Jewelers.

"Every other word was bro," said Olga. "Bro this, bro that, he was like, 'I need to see this bro, give me that, bro.' He was referring me as me as bro, to the man as bro, to anyone as bro."




Olga said one of them flashed a wad of cash, making it seem like he was ready to do business.

"He actually put something on hold so we saw him as a repeat customer even though he hasn't bought something yet," she said.

The thieves were looking at a solid, 21-karat, handcrafted gold necklace.

"The suspect even has the gall to put it on his neck, walks around for another 5 minutes," said retired detective Myrle Carner with Crime Stoppers of Puget Sound. "Then all of a sudden, boom. He bolts for the door."

In a flash, the crook was out the door with the loot and all the way through the mall with an employee giving chase.

"He chases him out to the parking lot where one of the suspects pulls a gun, points it at him and says, 'Stop following me or I'll kill ya,'" added Carner.

Cops think the suspects took off in a white pickup truck.

Olga said the $16,000 loss is a huge blow to the businesses.

"This is not a large corporation where something like this gets swept under the table by insurance companies and that's it," said Olga. "This is taking out of our pay checks; this is taking out of our small business."

Crime Stoppers is offering up to a $1,000 for someone who can identify the suspects.

If you know anything about this case, call 1-800-222-TIPS.