Can't afford spendy Seattle? City leaders want to help


SEATTLE- The room in the Central District is jammed with a variety of community and labor organizers wearing red t-shirts with the Washington CAN! logo. Washington Community Action Network released a study called Seattle's Renting Crisis: A Report and Policy Recommendations. Seattle City Council members Kshama Sawant, Lisa Herbold and Mike O'Brien are on board with having the city take some actions to make it easier to get into rental housing in the booming Emerald City.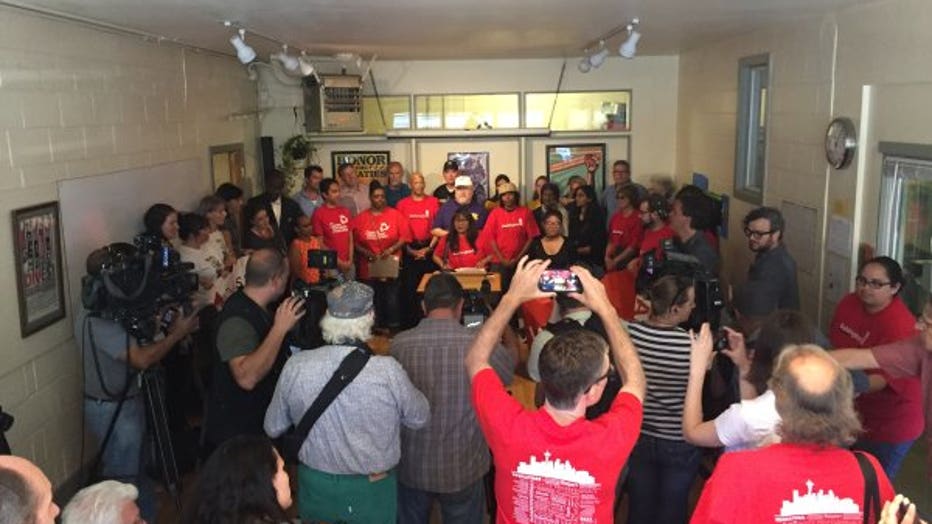 One of the biggest barriers to accessing housing is the high upfront costs (security deposits, fees, first/last month rent). The average rental in Seattle is now about 1500 dollars a month. That can translate to a $4,500 bill for a family to just move into a place. "There is no inclusion for all the others," says mother of two Charon Stewart-Silvano. She is caught up in Seattle's rental crisis. Her landlord sold her rental with only a month notice and she almost ended up on the street with her husband and kids. It was scary for them and had move even further away from jobs and schools to find a new place. "All the people with money get priority." That's what brought Stewart-Silvano to speak at the Thursday news conference.

City Council members Kshama Sawant, Mike O'Brien and Lisa Herbold and jumping in to help make renting more affordable. "The laws in this state are overwhelmingly stacked against renters," says Sawant. Their proposal they're calling Housing Justice Now would cap security deposits and non-refundable fees to no more than 1 month rent. It would also force landlords to provide an option for incoming tenants to pay off deposits, fees and last month rent over 6 months. They proposal would also limit the fees landlords could charge to those only allowed under state law.

The idea isn't sitting well with everyone. Landlord Cameron Raspet has been in the real estate business for about a decade. While he just sold his Seattle rental property, he might not re-invest in Seattle if the regulations keep piling up. "It will become a factor as to whether I invest in Seattle or not in Seattle." Raspet says spreading out a security deposit over several months puts his investment at serious risk if he gets a bad tenant. "Supply and demand is the overarching controller," he says,"and if you try to regulate that too much then you're just going to cause more problems."

For Charon Stewart-Silvano, she says it's important to keep the people in-city that have made Seattle a great place to live in the first place. She says these proposals go just beyond common sense and an economic bottomline. "I would say that these seem human,  to empathize."

The Housing Justice Now proposals will have a committee vote on Friday at 9am. The full city council could vote on the ideas coming up on August 1st.

=-=

If you'd like to read the full report from Washington CAN! click here.